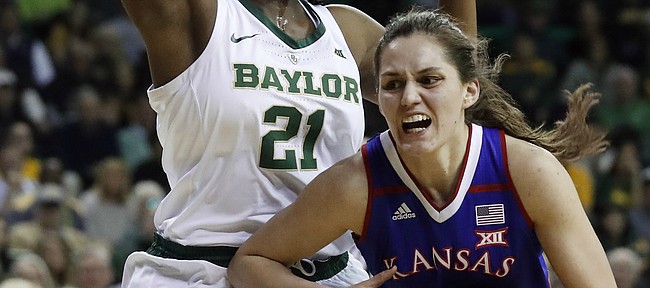 Don't be too alarmed when crimson and blue aren't the only predominant colors on display in the Allen Fieldhouse stands during Senior Night for the Kansas women's basketball team.
Some bold blues, greens and yellows will be popping, too, with the colors of Brazil's national flag paying homage to the Jayhawks' two Brazilian seniors, Mariane De Carvalho and Niccolly Ramalho.
Brazilian T-shirts, flags and more are expected, with all the friends De Carvahlo and Ramalho have made in Kansas in attendance for the final home game of the regular season, versus Iowa State (7 p.m. tipoff Tuesday, ESPN+).
"They're all coming," a beaming De Carvalho said of the many companions the two have grown close with over the past four years, first as teammates at Highland Community College for two seasons and now at KU. "I'm excited to see them, but I am more excited to play the game — my last game at Allen — that's huge for me."
The Jayhawks (15-12 overall, 4-12 Big 12) are aiming for their third conference win in a row. They've won three of their last four.
Head coach Brandon Schneider said his team's two seniors have made as big an impact on KU's chemistry and spirituality as they have on the court. De Carvalho, a 6-foot-2 senior forward from Araraquara, Brazil, has started every game this season, and averages 10.7 points and 5.3 rebounds. Ramalho, a 5-5 guard from São Paulo, Brazil, plays 8.2 minutes a game off the bench.
Both, Schneider said, have delivered plays he won't soon forget. De Carvalho made a no-look pass over her head on a fast break against Wofford, and the highlight made the rounds on social media platforms and a "top plays" appearance on ESPN.
"I didn't realize it, but somebody posted it and it went viral on Twitter," De Carvalho recalled. "So everybody was like congratulating me and like asking how did I do it, and for two days it was a lot of messages and a lot of good feedback, positive feedback."
Ramalho's standout play also came on a pass. And hers was a crucial first-half play for KU in its big win at Oklahoma on Feb. 26. Just before halftime, she dove on a loose ball to keep it alive, setting up Tina Stephens for a basket that beat the buzzer.
"I just like put my hand out and when I saw like the ball bouncing, and I saw like the other player, the OU player, like looking at the ball," Ramalho shared, "I was like, 'No, you're not getting it.' So I just dove and tried to tip it to Tina."
Making those type of effort plays is what Ramalho is about as a player. She said her role is to provide defense and that's just always the way she has played the game.
KU will need those types of efforts to extend its win streak to three, with ISU (16-11, 8-8) coming to the fieldhouse.
Schneider said his seniors are not only good players, but "high character" young women who have done a lot to move the team's culture forward with their attitudes and work ethic.
Both Brazilian Jayhawks expect their Senior Night will be an emotional one.
"My senior year here," De Carvalho said, "it was like home to me. I knew the girls and I knew the coaches and it was like a different culture to me, and our work ethic was way different than last year. So I think that really reflects on our last (few) games."
Of course, Ramalho said there will be no better way to enjoy Senior Night than with a victory.
"Just winning my last game at Allen Fieldhouse against a team that we haven't beat yet," she said after Monday's practice, "that would be super good. Like, seriously, I can't wait."