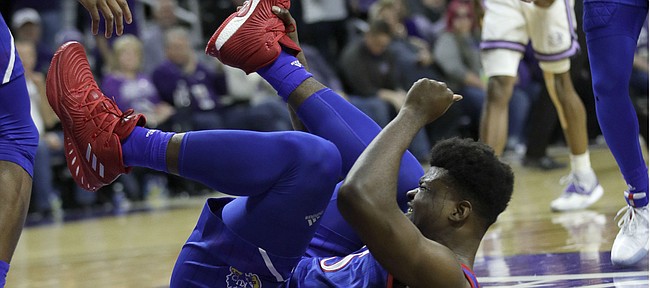 Udoka Azubuike's status for the final home game of his college career is in jeopardy, Kansas coach Bill Self said Sunday.
Azubuike, who rolled his right ankle during Saturday's 62-58 victory over Kansas State in Manhattan is listed as "questionable" for the top-ranked Jayhawks' home finale against TCU on Wednesday night at Allen Fieldhouse.
"Hopefully he'll be able to play Wednesday," Self said during the team's annual Wilt Chamberlain Special Olympics Clinic. "But we can't count on that right now."
Azubuike, who was wearing a walking boot on his right foot during Sunday's clinic, played just 20 minutes in Saturday's win after injuring the ankle early in the first half of KU's 14th consecutive victory.
Self said after the game Saturday that he thought Azubuike would be fine. Twenty-four hours later, the KU coach had a better understanding of Azubuike's injury.
"He just turned his ankle," Self said. "But it swelled a lot. … I'm hopeful that he can be ready to go for Senior Night, but I think he's questionable at this point."
After being whistled for traveling just before Saturday's first media timeout, Azubuike fell to the floor under the basket and grabbed his ankle as he went down.
He remained on the floor for several minutes while KU's medical staff examined the ankle. And he went immediately back to the locker room for further examination after walking off the floor without help.
Azubuike returned to the game with just under 10 minutes to play in the first half and was able to play 10 minutes in both halves. But he was largely ineffective and looked nothing like the player who had dominated recent Kansas games with double-doubles and explosive play. Azubuike was on the bench for the final six minutes of KU's win.
Azubuike was not the only Jayhawk playing through pain in KU's latest victory. Junior guard Marcus Garrett, who has been bothered by ankle and foot injuries throughout the 2019-20 season, showed signs of being limited by the lingering injury to the bottom of his left foot against the Wildcats.
"He was hurting yesterday, too," Self said of Garrett. "But he's probably going to have to deal with it every day from this point forward."
Garrett first suffered the foot injury in KU's home win over Tennessee on Jan. 25 and has been managing it ever since. Self said Garrett would not practice Sunday or Monday but was expected to go Tuesday before Wednesday's 7 p.m. game versus TCU.
"We're kind of just trying to get to the finish line right now (of) the regular season, with some guys just nicked up, just having some minor injuries," Self said Sunday. "Dok's is obviously the most severe one right now."