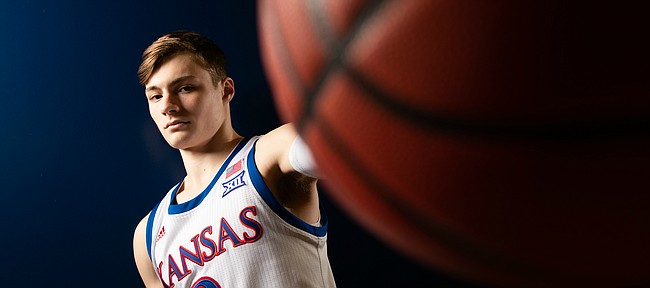 Add Christian Braun's name to the list of native Kansans who have made their mark on the Sunflower Showdown.
Facing the Wildcats for just the second time in his career, the freshman from Burlington put up modest numbers while making a major impact in top-ranked Kansas' 62-58 road win over Kansas State.
"I thought Christian played great," KU coach Bill Self said Saturday. "Christian was real important."
In 23 minutes off the bench, Braun scored 6 points, grabbed four rebounds and added a block and a steal to help the Jayhawks stave off a scare from their in-state rivals.
In two games against the Wildcats thus far in his career, Braun is shooting 47% from the floor (9 of 19), 57% from 3-point range (8 of 14) and averaging 13 points and four rebounds in 26 minutes per game.
His production Saturday paled in comparison to the 20-point outburst in his first game against K-State in January, when he hit 6 of 10 3-pointers in an easy win at Allen Fieldhouse.
But with the game on the line and the Jayhawks fighting to survive, Braun buried a 3-pointer from right in front of the Kansas State student section that gave the Jayhawks the separation they needed to get to the finish line first.
Self called it the biggest shot of the game. And the KU coach explained afterward why he was hardly surprised by which of his players drained it.
"To me, the most dangerous kids usually, when we play against K-State, are the Dean Wades," said Self of the former KSU standout who grew up in St. John. "And the most dangerous kids a lot of times, when they're playing us, are (players) that are homegrown, the Perry Ellises or Travis Releford. And now Christian. I don't know that it means more, but it may get his juices flowing a little bit more than normal just to have an opportunity to play an in-state rival."
Prior to Saturday's matchup, Braun confirmed as much.
"It (was) like one of my favorite games to watch every year," he said. "So I've always loved watching the game. And I've always been a KU fan, so I've always been on the same side. It's different to be a part of it."
While the events that unfolded in the moments after the game went final in Allen Fieldhouse took something away from both Braun's career night and his first experience in the rivalry, there were no such distractions on Saturday.
Asked how it felt to win his first game in the series in enemy territory, Braun said he was "100%" thrilled about getting out of Bramlage Coliseum with the victory.
"It was a good environment to play in," he said. "And, just (growing up) in Kansas, it was always a dream of mine, so it was pretty awesome."
Braun smiled when asked about the ribbing he received from the K-State student section. And he added that he did not think he got any extra attention or additional venom given the fact that he grew up just 38 miles farther from Manhattan than Lawrence.
"They're going to say what they're going to say," Braun said. "I'm sure they had something for everybody. But I didn't really listen to it. I just played my game."
That game included a couple of key shots, all kinds of hustle plays and the kind of passion that Kansas kids on both benches have displayed for years in this showdown.
It also left the Jayhawks in sole possession of first place in the Big 12 Conference, something Braun said would give his teammates and him a little extra fire as they try to hold off Baylor for the Big 12 title.
"We're not looking to share," Braun said. "With them losing (to TCU on Saturday), we're trying to take it outright. We've got two more left, and we're going to go get 'em."
Braun and the Jayhawks return to Allen Fieldhouse on Wednesday for a 7 p.m. tipoff against TCU.