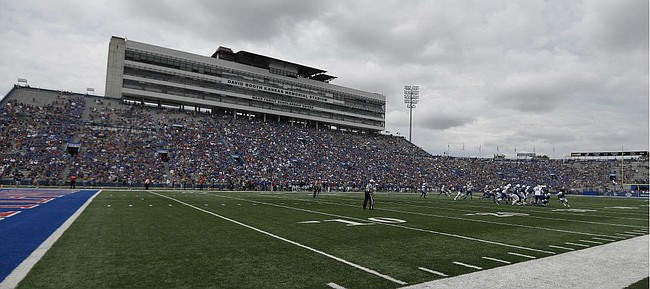 KU has found seven cases of COVID-19 among the 100 student-athletes it's tested from across four sports, University of Kansas Athletic Director Jeff Long said Monday.
Long discussed the school's testing results during an appearance on Sports Radio WHB. He didn't go into many specifics on the radio, but a KU spokesman told the Journal-World on Tuesday that three of the positive tests were from football players.
Two weeks ago, KU announced one positive test in the football program, which saw nearly 100 athletes return to campus for the first week of voluntary workouts beginning June 15.
Athletes from the rest of KU's fall sports rosters, which include men's and women's cross country, women's volleyball, women's soccer, women's tennis, women's rowing, women's swimming and diving and men's and women's golf, are allowed to report to campus for the start of voluntary workouts on Wednesday.
During Monday's radio interview, Long said he remained hopeful about college football starting on time in the fall, but added that KU was prepared for delays and changes to the schedule.
"I wouldn't use the term confident," Long said. "I would use the word optimistic. We're preparing for play this fall in our fall sports, particularly football. It's the economic piece that we need to have. But we're proceeding cautiously."
Long praised the efforts of the Kansas Team Health employees and administrators, who oversee all of KU's medical and training practices, for keeping the athletic department informed about the pandemic throughout the past few months.
"We're, I think, managing it very, very well," Long said. "Certainly as we bring more student-athletes back to campus and back to voluntary workouts in our facilities, we expect to see more (positive tests)."
What that means for the immediate future of sports at KU remains to be seen. But Long said that with roughly 50% of the athletic department's annual revenue coming from football, the idea of not having a 2020 college football season would be "potentially devastating."
To that end, Long said KU had begun looking at alternate plans in case the COVID-19 pandemic creates delays or further obstacles for starting the football season on Sept. 5 as currently scheduled.
One such plan includes pushing football back several months.
"I think if it doesn't happen in the fall, we will move it to the spring, and we will play in some way, shape, or form," Long said. "We'll be able to have fans in attendance. We'll have television at some level."
While a spring football season remains one of the contingency plans KU is exploring, Long said the heavy schedule of spring events — in both college and professional sports — could limit the "windows of opportunities" associated with televising those games, which would only add to the challenge of holding on to whatever football revenue the department can.
"Again, I think it's fair to say we're preparing for the fall, but also we have to be intelligent and, at the same time, be thinking about the what ifs if we do miss a fall season," Long said. "We're preparing for it. We want our fans to be optimistic and prepare for it, and so we're proceeding cautiously."