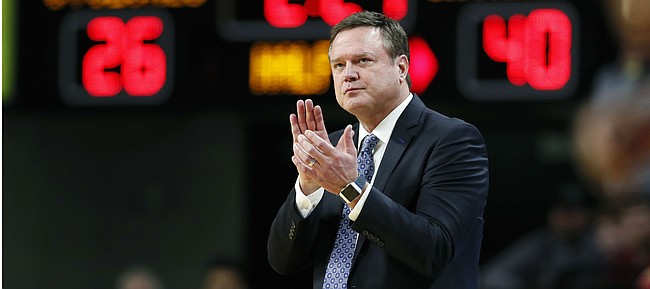 Two areas of weakness for the 2019-20 Kansas men's basketball team figure to be much improved during the 2020-21 season, KU coach Bill Self said recently.
And a couple of newcomers could be the biggest reason why.
Despite their 28-3 record, the presence of All-Americans Udoka Azubuike and Devon Dotson and their status as the team to beat heading into the postseason, last season's Jayhawks occasionally struggled offensively in transition and late in the shot clock.
"We had to manufacture points," Self said during a special edition of his "Hawk Talk" radio show last week. "We weren't great at that."
Because the Jayhawks so rarely worked their possessions to the final seconds of the shot clock, the transition issue was a much bigger deal.
From opening night through the end of the season, the Jayhawks never looked fully comfortable when they got out on the break.
According to hoop-math.com, which defines a transition basket as one that comes in the first 10 seconds of the shot clock following a steal, defensive rebound or opponent field goal, the Jayhawks scored in transition just 27.9% of the time last season.
Part of that was the offensive game plan of wanting to play through Azubuike as often as possible. But a fair percentage of KU's turnovers came in transition.
"If we didn't have a layup, we screwed it up," Self said.
Time, familiarity and added repetitions all will go a long way toward solving the transition woes. And the addition of freshman Bryce Thompson and junior college transfer Tyon Grant-Foster could make a major difference when the shot clock starts winding down.
"That's one area that we should be better in, just because of Bryce and Tyon's ability to create separation and get their own (shots)," Self said.
Point guard Devon Dotson was the only player on the 2019-20 roster who reliably did that a year ago. But most of Dotson's ability to create for himself came from driving hard to the rim and finishing a layup or drawing a foul and not from creating space on the perimeter with the dribble.
Junior Marcus Garrett played a similar style as Dotson, and sophomore Ochai Agbaji showed flashes of being able to create his own shot but also appeared timid at times.
"We had more shot clock violations this year," Self said. "Usually, hey, just shoot it. Devonte' (Graham) wouldn't have had a problem getting it up. Or Svi (Mykhailiuk). But it was harder for us to create separation so we had a lot of late shot clock violations."
In all, KU fell victim to 13 shot clock violations in 31 games last season. Nine of those came during Big 12 Conference play and a few of them came at the end of games when the Jayhawks had the game in hand and chose not to run up the score.
One thing that helped even out the impact of the increased violations was the fact that the Kansas defense, which finished the year ranked No. 2 by KenPom.com, forced opponents into 20 shot clock violations.
"I'm not saying that's what wins," Self noted. "But that certainly is important in close games and I think (having Thompson and Grant Foster will) be helpful for us next year."