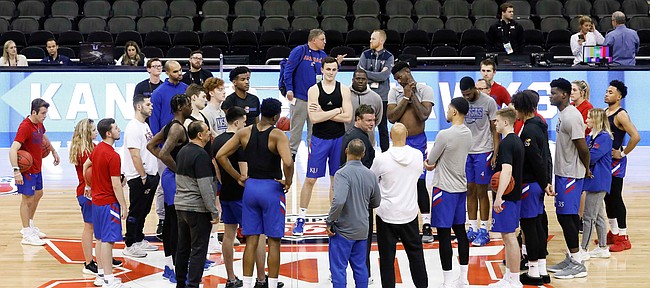 The Kansas men's basketball program is delaying its return to campus by roughly two weeks, KU coach Bill Self told the Journal-World late Thursday night.
Originally aiming for a July 6 return — as allowed by Big 12 Conference guidelines — the Jayhawks now are shooting to be back in Lawrence by July 19.
Per NCAA rules, KU's coaches cannot start working with players in person until July 20, so any basketball activity done by Self's players before then would have been voluntary anyway.
"I personally didn't think the reward outweighed the risk this early if you can't work with them," Self told the Journal-World. "That was our thinking."
Tuesday night, following an appearance on a special edition of his "Hawk Talk" radio show, Self contacted each of his players individually and talked with them and their parents about their plans to return.
"The ones that spoke up, I think they agreed (with our new plan)," Self said. "I think most people are going to bring (their players) back sooner, but we just didn't see the benefits of that."
Self said two of the 15 players on KU's 2020-21 roster are already in Lawrence.
Senior forward Silvio De Sousa has been in Lawrence throughout the pandemic. And senior guard Marcus Garrett recently returned from his home Dallas.
A large percentage of the rest of the roster is within driving distance, and a handful of those players — Ochai Agbaji, Christian Braun, Tyon Grant-Foster, Dajuan Harris and Chris Teahan — live within an hour or two of KU's campus.
In some instances, depending on where they're coming from, some of KU's players might have faced a 14-day self-quarantine upon returning to campus, which would have delayed their ability to get started even with a July 6 return.
Self said Virginia native David McCormack has been in St. Louis in recent weeks. Incoming freshman Bryce Thompson is a few hours away in Tulsa. And Mitch Lightfoot (Phoenix) and Gethro Muscadin (Louisville/Fort Worth, Texas) may need flights back to campus when they return.
Jalen Wilson and Michael Jankovich, along with freshman guard Latrell Jossell, are all coming from Texas, which, according to reports, has seen a surge in COVID-19 cases in recent days.
"We may have to think about (doing something different) with those guys coming back," Self said of the Texas crew.
The one Jayhawk facing the biggest obstacle is sophomore forward Tristan Enaruna, who has been at home in the Netherlands and will not be allowed to return to Kansas until the government lifts the travel ban into the United States.
According a June 15 update on the Centers for Disease Control and Prevention website, anyone who has been in the Netherlands (or 36 other countries on the list) in the previous 14 days may not enter the United States.
The CDC notes that there are exceptions for certain travelers, but it is not clear from the website whether Enaruna would qualify for those.
"We don't know when he's going to be able to get back with us," Self said on "Hawk Talk." "Of course, it's not an emergency to get back now, but we'll look forward to getting him back when we can."