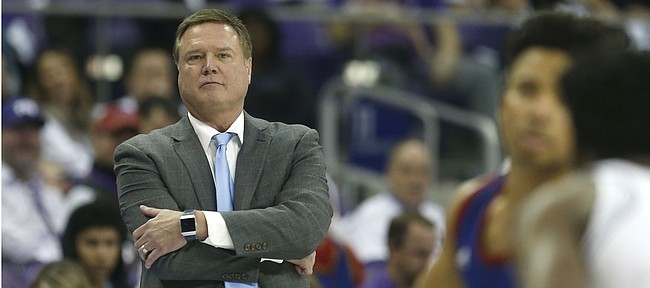 In the month since the death of George Floyd at the hands of the Minneapolis Police Department, Kansas basketball coach Bill Self has spent a lot of time thinking about race, social injustice and ways he can help.
Self also has done a lot of talking about the issues, including the Black Lives Matter movement and protests in Lawrence and across the country.
But if there's one thing the Hall of Fame basketball coach has learned most during the past several weeks, it's that listening can be just as effective and have a bigger impact than talking and leading in a vocal manner.
So Self has listened.
He said he has watched documentaries and movies about the experience of Black people in America. He has listened to podcasts, talked with colleagues and read stories about things he did not previously know or understand. And he has done it all in the name of taking the first step toward affecting real change in the way minorities are treated and the opportunities they are given in sports, college basketball and his own community.
During a recent episode of his "Hawk Talk" radio show, Self talked at length about the conversations he has had with his team and coaching staff in wake of Floyd's death.
Self said he asked his players what they wanted and needed from him and the program. The answer was simple. Self said his players expressed that they just needed to know that he stands with them and that the basketball program and university are united in the goal of equality for all.
"We ask them to stand with us, daily," Self said on "Hawk Talk." "And I think it's great that we stand with them, too. The biggest thing I've learned is, as a head coach, we're always the ones barking out instructions and giving orders. I think this has been a great opportunity for me to listen and learn from others."
Another opportunity to do that came Thursday, when Self was one of six panelists who participated in an online discussion called the "Forum on Race & Sports."

The 45-minute Zoom chat, which drew nearly 300 live viewers and is available on YouTube, was hosted by The Kansas City Star and moderated by Star sportswriter Blair Kerkhoff.
Self was joined by Missouri basketball coach Cuonzo Martin, Kansas City Royals General Manager Dayton Moore, Kansas City Chiefs safety Tyrann Mathieu, Kansas State women's basketball player and Minneapolis native Christianna Carr and Negro Leagues Baseball Museum President Bob Kendrick.
The group addressed everything from what they have experienced and felt during the last month to what they have done, what more they can do and what progress might look like from here.
Originally slated to take place at the Negro Leagues Baseball Museum in Kansas City, Mo., but moved online because of the COVID-19 pandemic, the forum featured people from all walks of life sharing their ideas and experiences on those topics and more.
And Self spent most of the 45 minutes listening.
"As a coach and a leader, it's time for me to allow my players and encourage my players to have the voice and have me stand with them as opposed to standing in front of them and having them always stand behind me," Self said. "I'm looking forward to our players getting back. I'm looking forward to words becoming actions. I'm looking forward to doing different things in our university and our community that can make this a much better place."
Carr, who was born in Minnesota and moved to Manhattan when her father, Chris, joined the K-State women's coaching staff, said hearing Self's words gave her hope that real progress could be made.
"To be able to have a coach who understands that, I think that's a big thing," she said.
While much of Thursday's forum featured each guest speaking specifically to how things work in their worlds and their communities, the group expressed a common goal of wanting to provide more opportunities and better compassion for Black people in America, both in the sports world and in society in general.
To that end, Martin told a story of bringing Columbia Police Chief Geoff Jones, who is white, to his team's Zoom meeting in late May to open up dialogue about police brutality with his team five days after Floyd's death.
Mathieu and Moore talked about the extensive reach that their platforms, as people in professional sports, provide them to inspire change.
And Kendrick expressed his belief that, although there remains a long way to go, forums like the one held Thursday and countless others were a step in the right direction.
"It's not easy to talk about it," Kendrick said. "It's not supposed to be easy. And we have to be comfortable being uncomfortable."
Self said Thursday that, despite growing up in Oklahoma, he never learned about the Tulsa race massacre of 1921. However, his recent efforts to learn about those events, and others, have helped make him better informed on all issues involving race. And he's eager to learn and do more.
"I think that all coaches need to have a voice," Self said. "This is not a black thing, this is not a white thing, this is a we thing. And I have an opportunity to have as strong a voice in our community as maybe anybody.
"I realize now I didn't have near as good a handle on it as what I thought I did in many ways," he added, noting that he recently has tried to put himself in position "to see totally the perspective that others come from."
"It's been educational," he said. "My players have been great."
Self talked Thursday about narrowing the focus to what's realistic. He understands that he, his coaching staff and his players might not be able to change the world, but noted that, "we can certainly make a difference in our own communities in our own states."
"I'm looking forward to our players coming back, so they — and we — can we take a role in trying to do some things for not only our university but for our community as well," Self said. "And I think that's going to happen. I'm really looking forward to our athletes — and I know (KU AD Jeff Long) feels strongly about this — feeling freedom to be able to voice their opinions and voice their feelings without feeling that there's consequences for speaking out. This is going to be something that over time we'll see some positive changes come out of."