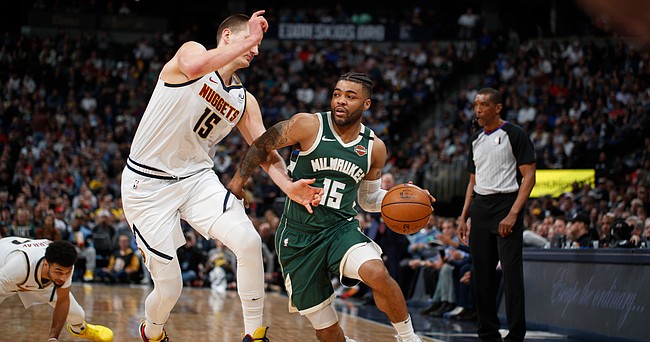 Former Kansas point guard Frank Mason III knows a thing or two about collecting trophies.
But just in case he forgot how to do it, Mason got a chance to sharpen those skills Thursday, when he was named the NBA G League's 2019-20 Most Valuable Player.
Voted on by the league's 28 head coaches and general managers, Mason, who is on a two-way contract with the Milwaukee Bucks and Wisconsin Herd, added to his trophy case after leading the G League in scoring at 26.4 points per game in 23 games with the Herd.
As he did during his senior season at Kansas, when he swept all of the major 2016-17 college player of the year awards, Mason added to his scoring prowess with five assists and 3.4 rebounds rebounds per game for the Herd during his first season in the G League.
"Frank has been an unbelievable point guard and leader for us all season," said Wisconsin Herd head coach and former KU walk-on Chase Buford in a news release. "Throughout the season, he proved that he is an NBA-caliber player, and this deserved recognition clearly reflects that. Frank is a high-quality person and teammate, and that impresses me most."
Mason shot 50.4% from the floor, 42.5% from 3-point range and 81.5% at the free-throw line this season, making him one of just two players in the G League to finish with a 50/40/80% season.
The Herd were 18-5 with Mason in the lineup this season and the Petersburg, Va., native also appeared in six games for Milwaukee, going 5-1 this season at the NBA level.
"As was evident by his production and contribution, Frank embraced his opportunity while with us," said Milwaukee Bucks Vice President of Basketball Operations and Wisconsin Herd General Manager Dave Dean. "It was a privilege to watch him play and develop, and his growth over the course of the season was nothing short of tremendous."
The No. 34 overall pick of the Sacramento Kings in the 2017 NBA draft, Mason was waived by Sacramento following the 2018-19 season and signed his two-way deal with Milwaukee last July.
Mason appeared in 90 games with the Kings during his first two NBA seasons, averaging 6.8 points, 2.6 assists and 1.9 rebounds in 15.8 minutes per game.
At 53-12, the Bucks currently own the best record in the NBA and are the favorites to come out of the Eastern Conference when the NBA season resumes in Orlando.
The remainder of the G League season has been canceled, but Mason may have an opportunity to join the Bucks' roster when the NBA gets going again.
The league is expected to vote on a temporary rule change that allows teams to play with two additional players on their rosters for the remainder of the 2019-20 season as a way to provide insurance against any potential COVID-19 issues.