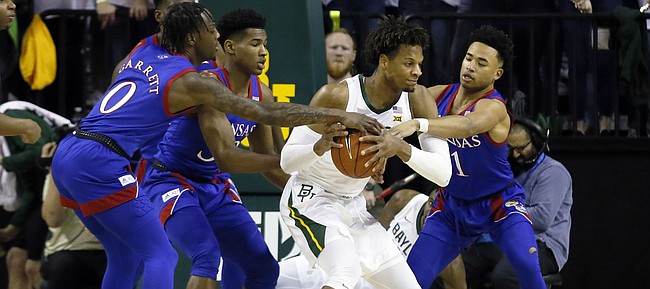 For a few months last fall and winter, Kansas guards Ochai Agbaji, Devon Dotson and Marcus Garrett staged a regular competition that led to the 2019-20 Jayhawks becoming one of the best takeaway teams of the Bill Self era.
Those three Jayhawks pushed each other, and their teammates, to swipe 237 steals in 31 games, good for 7.65 steals per game, the most by a Kansas team since the 2010-11 season.
What's more, Agbaji, Dotson and Garrett set a new mark for highest percentage of KU's season steals by a trio, swiping 66.2% of KU's total steals last season to surpass the previous high set by Devonte' Graham, Josh Jackson and Frank Mason III, who combined to record 64.4% of KU's steals (161 of 250) during the 2016-17 season.
Prior to that, Mario Chalmers, Russell Robinson and Julian Wright held the mark at 64.3% of KU's steals (225 of 350) during the 2006-07 season.
In his 17 seasons at KU, Self has had a trio of players top 60% of the team's total steals in a season just five times.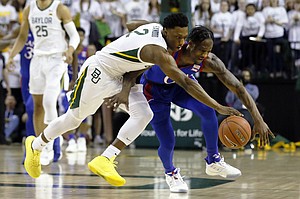 Before the pandemic shut down college basketball, the Jayhawks were on pace to reach 298 steals by season's end and within range of becoming just the fifth Self team at Kansas to reach 300 steals in a season.
In order to hit those marks, the Jayhawks would have had to play deep into the NCAA Tournament. But considering the fact that they were the likely No. 1 overall seed and the favorite to win it all, many analysts believed a deep run was coming.
Even without it, KU already was within a single game or had recorded more steals than six of the previous 16 Self teams at Kansas.
Individual talent had a lot to do with those numbers. Garrett was college basketball's defensive player of the year. Dotson was one of the quickest on-ball defenders in the country. And both had the luxury of being able to gamble up top, knowing that 7-foot rim protector Udoka Azubuike was behind them.
But there was more to it than talent. In fact, Agbaji said during the season that Garrett turned the quest for steals into a daily competition.
It didn't matter if they were at practice or it was game night, Garrett, Agbaji and Dotson always tried to outdo one another.
"I don't really care who gets the steals, honestly," Agbaji said in February. "It just comes down to stopping them defensively. That's how I see it. But I know Marcus is always trying to make a game out of everything."
As with any good game, there were rules and goals and Garrett was happy to share them.
"We go into every game with like a friendly competition; we want to get as many steals as possible," Garrett said during the season. "We always try to get five steals a game and we just laugh and joke about it after every game, who got the most steals or who's going to try to get the most steals next game."
Despite Garrett's status as the nation's best all-around defender, it was actually Dotson who led the Jayhawks with 63 steals. Garrett ranked second at 56, and Agbaji was third at 38.
Garrett and Dotson both achieved the trio's standing goal of swiping five steals in a single game.
Dotson got his in an overtime win over Dayton in Maui last November, and Garrett's came in a Feb. 12 win at West Virginia.
Garrett reached four steals in a game five other times and delivered a five-game stretch of at least three steals per game from Feb. 3 through Feb. 17.
Outside of the Dayton performance, Dotson reached four steals in a game four other times.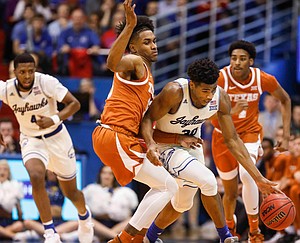 Agbaji, meanwhile, reached four steals just once. That came the season opener against Duke and temporarily gave him bragging rights in the steals competition.
He reached three steals in a game just twice after that, and said he always had a plan for how he would react if he ever topped his teammates in steals in a game.
"I'll definitely let (them) know," Agbaji said with a laugh before adding that he thought the friendly competition between the three Jayhawks fueled their success.
"Just having that intensity on the defensive end, it kind of spreads out and is contagious throughout our whole entire team," Agbaji said.
Self agreed.
"The better we do defensively creates more of a sense of pride to try to keep that going," the KU coach said after a home win over Oklahoma in mid-February. "We've got some guys that are pretty prideful defensively."
Whether the 2020-21 Jayhawks can pick up where last season's team left off is anybody's guess.
Garrett and Agbaji both will be back in the lineup, but they'll have to do it without Dotson, who is headed to the NBA.
In to replace him is redshirt freshman Dajuan Harris, who Self recently said had "great hands."
Sophomore-to-be Christian Braun also may be a factor in the steals department next season.
As a freshman, Braun finished fourth on the team with 21 steals despite playing just over half of the minutes of played by Agbaji, Dotson and Garrett.