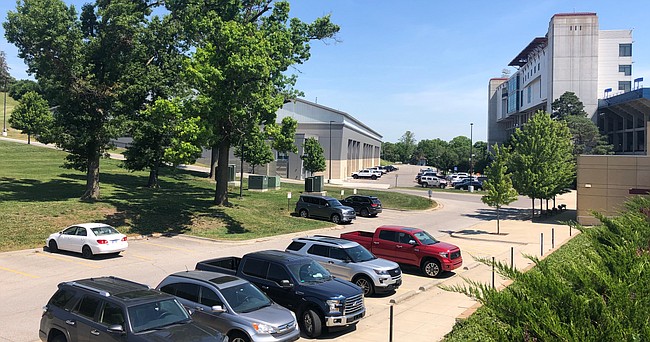 The University of Kansas football program announced Saturday that one player has tested positive for COVID-19 and another had a positive test for the COVID-19 antibodies.
The two positive tests came after 86 players and 110 KU staff members were tested during the past couple of weeks as KU's football athletes returned to campus for the start of voluntary summer workouts.
"Our staff and doctors have been prepared for the inevitable situation where a student-athlete received a positive COVID-19 test and immediately followed the plans and policies prepared by Kansas Team Health," KU Athletic Director Jeff Long said Saturday in a statement. "Our student-athlete is being cared for and provided necessary items should he develop symptoms."
According to Saturday's news release, the player who tested positive for COVID-19 had shown no symptoms prior to returning to Lawrence. He is currently self-isolating and being monitored by KU's medical professionals.
The player who tested positive for the COVID-19 antibodies was unaware that he had previously contracted COVID-19, the release said.
Per the protocol of KU's policy for how to handle positive tests, both athletes — along with any others who test positive in the future — will receive additional evaluation by medical professionals.
"The partnership with Kansas Team Health has been a tremendous asset since it was formed a year ago," Long said of the group that oversees all of KU's medical operations. "But as we've all navigated this uncharted territory together, the medical advice and recommendations from their team of experts has been a tremendous benefit for our student-athletes, coaches and staff.
"While we can be almost certain there will be additional positive tests, we are committed to properly handling each individual with the highest medical care and doing our part to mitigate the spread."
KU's announcement comes on the heels of similar announcements from other universities and professional teams across the country, including a report from Sports Illustrated that indicated 23 Clemson football players had tested positive for COVID-19 and reports out of Manhattan that Kansas State had shut down its voluntary workouts for 14 days after 14 K-State players, of 130 tested, produced a positive test.
On Monday, the first day of workouts, KU officials reported no positive tests in "about 75" tests.
KU's seven-page policy guide, which was put together in the weeks leading up to football's return to campus and released to the public on Saturday, outlines pre-return, return and arrival practices as well as testing procedures and guidelines for isolation and contact tracing.
In some cases, the document is broken down by the day. It also includes rules for hygiene, mask usage, distancing guidelines and details about the allowable size of the team's workout groups and how those groups are determined.
The guide, issued by Kansas Team Health, says at the top of the document that the information in the ensuing seven pages are "recommendations for athletes returning to campus based on current medical knowledge and intended to create the safest possible environment for athletes and staff."
The introduction also indicates that the recommended health and safety guidelines are not a guarantee that an athlete will avoid being exposed to or contracting COVID-19.