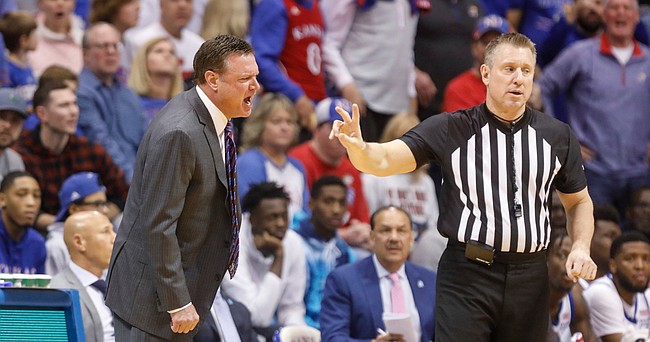 Kansas coach Bill Self's personal attorney has informed the NCAA, college sports' governing body, that the Hall of Fame coach is considering legal action against the NCAA for its handling of the violations case involving Self and the Kansas men's basketball program.
Scott Tompsett, Self's attorney, said in a June 12 letter to the NCAA's general counsel that Self was considering legal action for negligence, breach of contract, defamation and fraud, among other claims. As such, Tompsett requested the NCAA preserve evidence related to the investigation, as well as decades worth of NCAA policy precedent and materials related to KU's case.
The existence of the letter was first reported by ESPN Thursday, but the Journal-World obtained a copy independently.
In addition to communications about the investigation into KU and Self, Tompsett's letter requests the NCAA preserve evidence from the 2018 fraud trial in the Southern District of New York that made public the Adidas pay-for-play scandal.
The letter also requests the NCAA preserve an abundance of evidence dating back to 1990 for several categories, including communications relating to corporate entities and their relationship to athletic programs, NCAA oversight of apparel and shoe companies, and information communicated to the NCAA about shoe companies' "perceived or actual influence on prospective student-athletes and prospective student-athletes' choice of an NCAA member institution."
In September 2019, the men's basketball program was charged with five Level I NCAA rules violations delivered in a Notice of Allegations — the NCAA's version of an indictment — including a lack of institutional control.
Self personally was handed a coach responsibility charge, and the penalties associated with the alleged violations carry potential show-cause — essentially a suspension — penalties for Self and assistant coach Kurtis Townsend, a postseason ban, loss of recruiting scholarships, and vacated wins.
KU, Self and Townsend have vigorously disputed the charges facing the program since the process began; however, Self's threat of legal action seems to clearly demonstrate KU won't quietly accept any punishment that results in the aforementioned penalties.
"To put it bluntly, the NCAA enforcement staff is attempting to end Mr. Self's long and very successful coaching career for conduct which all coaches engage in and which the NCAA has known for many years is commonplace and permissible," Tompsett wrote.
As support for that claim, Tompsett included in the June 12 letter a quote from Mike Brey, the recent National Association of Basketball Coaches president and the head men's basketball coach at Notre Dame.
"It kind of shocked me," Brey said in part during a recent interview with The Athletic's Seth Davis. "I never thought of it like that. If there's money changing hands, then yeah, they're a booster, but I don't think any of us look at the support we get from sneaker companies and think of that as violations. They're giving us information to help close the deal (with recruits). ... Every one of us works the shoe company angle to help us get players. I speak to those guys as much as I would speak to parents."
The allegations from the NCAA state that Self and Townsend showed a lack of control in allowing representatives from Adidas, KU's apparel company, to have "unrestricted access" to players and families of potential KU recruits.
The alleged failure to monitor the representatives' activities is what resulted in the guardians of former Kansas players Billy Preston and Cheick Diallo, as well as current player Silvio de Sousa, to receive illicit payments during their recruiting processes, the NCAA says.
The NCAA also argued that Adidas representatives were acting as boosters for KU, and as such had to be monitored by coaches at all relevant times to ensure compliance with NCAA rules.
As the Journal-World has previously reported, KU's athletic department has routinely sent out compliance letters to area businesses reminding them of what constitutes a booster of the university. That letter makes it clear that companies like Adidas can be considered boosters.
The letter states: "A booster is an individual, independent agency, corporate entity (e.g. apparel or equipment manufacturer) or other organization that is known to …"
KU in its response to NCAA allegations in March, however, said that the NCAA was relying on a "never before alleged theory" that employees of corporate partners are boosters to college athletic programs. Seemingly the case against KU hinges on whether then-employees of Adidas are considered boosters.
T.J. Gassnola, the central figure in the Adidas pay-for-play scandal, testified in a 2018 federal trial that he and others intentionally concealed the payments from Self and Kansas.
In the letter, Tompsett wrote that allegations directed at Self "are contrary to longstanding NCAA precedent and the common practice that individuals who work in grassroots basketball openly share information with both college coaches and (potential student athletes)."
KU's violations case has been referred to a new Independent Accountability Resolution Process that is separate from the NCAA. The five-person committee within that process has not yet publicly said whether it will hear the case.
If it won't, the case will be heard through the typical route of the NCAA Committee on Infractions, which recently has ratcheted up the penalties it levies at schools found to have violated NCAA rules.
– Sports editor Matt Tait contributed to this article.