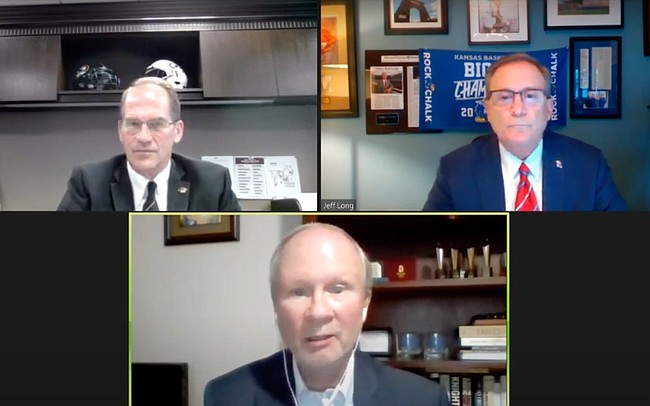 Months of planning and projecting have left University of Kansas Athletic Director Jeff Long cautiously optimistic about hosting a full college football season this fall.
Long said as much on multiple occasions during Tuesday night's online discussion, "College Sports in the COVID-19 Era," on the Kansas City Public Library's YouTube channel.
Joined by Missouri AD Jim Sterk and library moderator Steve Wieberg, Long shared his hopes that KU would have everything lined up in time for the Jayhawks to play football in September.
"Each day that goes by we feel more positive," Long said. "But, candidly, we really don't know. I think things are positive, but they're far from certain that we will get this season started on Sept. 5."
KU is scheduled to host New Hampshire at David Booth Kansas Memorial Stadium on Sept. 5 to kick off its 12-game 2020 season.
While Long and Sterk did not provide extensive details, both discussed the planning that has gone into preparing for the 2020 season under the pandemic.
From big decisions like how many fans to allow into their stadiums to smaller details like having to put 6-foot social distancing markings around the stadium concourses, Long and Sterk painted a picture of weeks worth of meetings about how to proceed.
"There's a lot of scenarios out there being explored," Long said. "And we don't know (how it's going to play out). But we're certainly planning and spending a lot of time, effort and energy planning for the unknown."
Among the factors being considered by both schools' athletic leaders in recent weeks included contingency plans for scheduling, protocol for players who test positive and how the players would progress from summer workouts in small groups to full-scale practices and games with live hitting, blocking and tackling.
It's still too early to announce any final decisions about those issues, Long said. But he added that they were getting closer to reaching that point each week.
He also emphasized that all decisions would be made "with medical professionals guiding us every step of the way," and said there were several layers of decision makers involved, from the NCAA and Big 12 Conference to county government and university administrators.

Long identified quality and convenient testing, continued medical advancements and the understanding of the fans as three of the key elements to the upcoming season.
The development of a "spit test," which could replace the current COVID-19 swab test, would create a cheaper option that is easier to administer, Long said. When asked if he thought athletes could be tested 2-3 times per week, Long called that mark "a good goal."

KU's athletic department leaders have spent a lot of time trying to model what seating options will be available for fans at Memorial Stadium this fall. And while Long said he was still holding out hope that they could get to "100% occupancy of our stadium," he and his staff also have made plans for as little as 20%.
"We think early August is when we absolutely have to make some decisions there," he said.
Regardless of how many people will be watching, Long said those in attendance can expect changes.
Although he does not believe KU will have automated temperature testing at the gates this season, Long said the idea had been considered and that temperature checks of some kind may be a reality for the 2020 season.
He added that fans also should expect to be asked to wear masks.
Beyond that, the game day experience figures to look and sound different, as well.
Long said conversations about what to do with the marching bands and spirit squads remained ongoing.
"The pageantry is really something that makes college football unique," he said. "But this may be a year where we have to do something different. Many of us will be disheartened by that, but it may just be the right thing to do."
All of the changes Long discussed Tuesday night, and the hours of conversations leading up to them, were being considered with the safety of everyone involved in mind, Long said.
"A lot is unknown," he noted. "But I would say that it's positive at this point. We're moving in a positive direction. I think that many schools will get through the season. But some won't. The truth will be somewhere in between that. Again, I go back to we don't know. We're not in control. The virus is when it comes to how it impacts our teams."