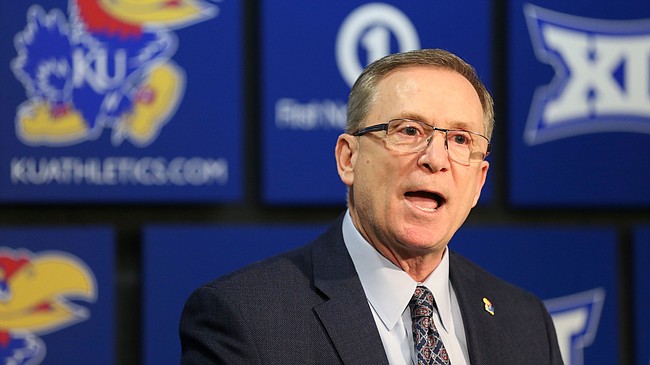 Kansas Athletic Director Jeff Long and his Mizzou counterpart, Jim Sterk, will share their thoughts on COVID-19's impact on college sports in an online discussion Tuesday.
The event, which is being organized by the Kansas City Public Library, is slated for 6:30 p.m. Tuesday on the library's YouTube channel. Former USA Today sportswriter Steve Wieberg will be hosting the discussion.
The website announcing the event says most of the event will be about the pandemic's impact on sports. However, it says Long and Sterk are also expected to touch on the role student-athletes are playing in various protests and demonstrations for social justice across the country.
The two ADs are also expected to discuss their schools' Border Showdown rivalry, which was recently renewed and is scheduled to return this season when the men's basketball teams face each other on Dec. 12 at Sprint Center. It will mark the first official game between the rivals since 2012. The football programs also are renewing the rivalry with a four-game series slated to begin in 2025.