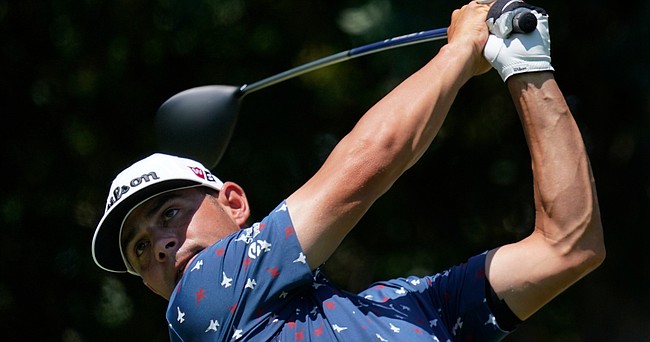 When he finished his third round at the Charles Schwab Challenge in Fort Worth, Texas, on Saturday, former KU golfer Gary Woodland was in a first-place tie at 12-under par.
By the time everybody was done, Woodland was tied for second, one stroke behind Xander Schauffele heading into Sunday's final round at Colonial Country Club.
Behind another solid and consistent round, Woodland finished 4-under for the day with one bogey.
The Topeka native has recorded just three bogeys the entire tournament and he birdied his final two holes on Saturday to put himself firmly in contention for the title.
Woodland has carded 15 birdies for the tournament while firing a 65 in Round 1, 67 in Round 2 and 66 on Saturday.
The former Jayhawk will be in Sunday's final pairing, joining Schauffele for a 1:10 p.m. tee time. Final round coverage will be carried by the Golf Channel, from noon to 2 p.m., and on CBS, from 2 p.m. to the end.
"When you get into contention and have a chance to win a golf tournament, that adrenaline starts pumping," Woodland said after his round Saturday. "It's been a little different (without fans). The first two days there wasn't too much adrenaline. There will be adrenaline going, which you have with fans or without fans. Tomorrow should be fun."
Schauffele made a 12-foot birdie putt on the 18th hole Saturday to break out of a six-way share of the lead with a 4-under 66, giving him one-shot lead over an All-Star cast going into the final round.
Jordan Spieth took only 10 putts on the front nine and had the lead until he didn't hit the 15th green from 81 yards away, leading to bogey. He had a 68 and was in a chasing pack that featured Woodland, Justin Thomas, Collin Morikawa and Branden Grace.
The PGA Tour returned after three months because of the COVID-19 pandemic, and it didn't take long to show its fan base just what it was missing.
Fourteen players are separated by three shots at the top of the loaded leaderboard, including World No. 1 Rory McIlroy, first-round leader Justin Rose and Patrick Reed, who made the cut with one shot to spare on Friday and shot 63 on Saturday to give himself a chance.
Golf fans should be in for a treat on Sunday — in front of the TV, anyway.
Colonial is the first of five tournaments in the return to golf that doesn't allow spectators. Players have had three days to adjust to the lack of sound. Sunday figures to be the toughest challenge yet, with everyone in contention trying to generate their own momentum without the energy typically delivered from outside the ropes.
— The Associated Press contributed to this report.