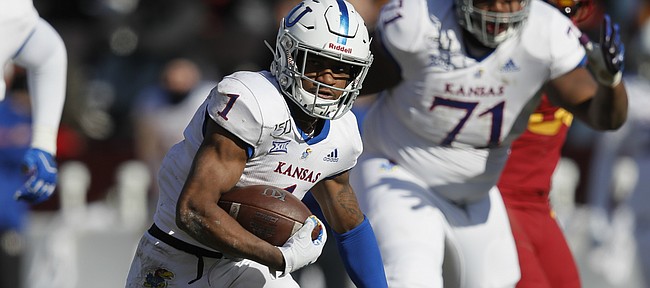 The first honor of 2020 for Kansas running back Pooka Williams Jr. has arrived, with the junior from New Orleans picking up a preseason all-Big 12 nod from Athlon Sports.
Williams was one of six Jayhawks honored in Athlon's preseason Big 12 magazine, earning a spot on the all-Big 12 first team for the second year in a row.
Williams was an all-Big 12 first team pick by the conference's coaches and The Associated Press in 2019, finishing with 1,061 rushing yards on 203 attempts and three touchdowns. He added 214 yards and two more TDs on 217 catches and finished his sophomore season with a team-best 115.9 all-purpose yards per game.
The release of the annual Athlon Sports magazine is the latest sign that, slowly but surely, while enduring an uphill climb, the 2020 college football season continues to draw closer.
And while we don't yet know exactly what the season will look like — COVID restrictions, fans in the stands, testing practices, etc. all remain question marks — it's not too soon to start breaking down teams, conference races and the outlook for the season.
Joining Williams in receiving preseason honors in Athlon's 2020 issue were senior punter Kyle Thompson (second team), senior wide receiver Stephon Robinson Jr. (third team) and fourth-team picks Andrew Parchment, a senior wide receiver who led the Jayhawks in receiving last season; Dru Prox, a senior linebacker who redshirted the 2019 season after starting on a tear and recording 39 tackles in four games, and Malik Clark, a senior offensive lineman from New Orleans who started 11 games as a redshirt junior in 2019.
Clark, Parchment, Prox and Robinson all earned recognition from Athlon for the first time in their careers.
Thompson, a first-team all-Big 12 pick by Athlon a season ago, earned honorable mention all-Big 12 honors in 2019 after finishing with 57 punts for 2,538 total yards. He downed 18 kicks inside the 20 and averaged 44.5 yards per punt.
Robinson made the 2020 preseason squad as an all-purpose selection. The Los Angeles native caught 45 passes for 727 yards a season ago and led KU with a 16.2 yards-per-reception average and eight receiving touchdowns. He also led the Jayhawks with a 22.5-yard kick return average and finished second on the team to Williams in all-purpose yards per game at 82.5.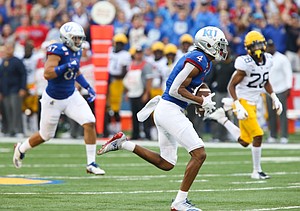 Parchment, a 6-2, 180-pound senior from Fort Lauderdale, Fla., teamed with Robinson to provide the Jayhawks with their best receiving in years. He led KU in receptions (65), receiving yards (831) and receiving yards per game (69.2) while snagging seven touchdowns.
While the Sept. 5 season opener against New Hampshire remains a ways in the distance, many Jayhawks made their way back to Lawrence this week.
Big 12 Conference guidelines on football's return to campus in the midst of the COVID-19 pandemic identified Monday as the first day of allowed voluntary player activities.
According to a news release sent out in late May, "football student-athletes will be permitted to access campus athletic facilities and support personnel for voluntary conditioning and training exercises."
The Big 12's volleyball, soccer and cross country athletes will be allowed to return July 1. Men's and women's basketball players will be allowed back on July 6. And all other student-athletes will be allowed to return to campus for voluntary sport-related activities beginning July 15.