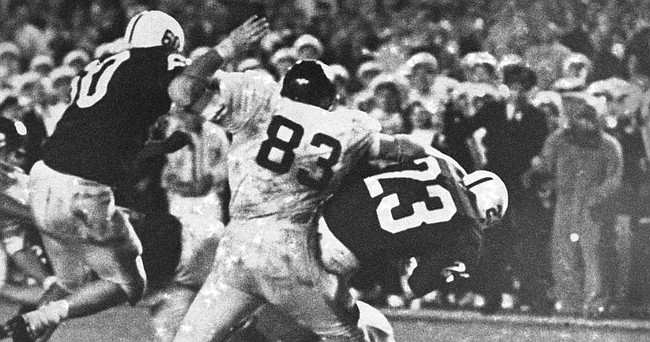 John Zook, the anchor of the Kansas defense during the Jayhawks' 1968 Orange Bowl season, died Sunday at age 72.
His brother, Dean Zook, confirmed Zook's death to the Atlanta Journal-Constitution.
His death, which came after a long battle with cancer, comes 24 days after his college coach, Pepper Rodgers, died at age 88.
A native of Larned, Zook was a two-time all-Big Eight selection at Kansas and a first-team Associated Press All-American defensive end in 1968.
He finished his KU career with 202 tackles in three varsity seasons — the fourth best total by a defensive lineman in school history — and played a key role in KU finishing 9-2 and reaching the Orange Bowl during his senior season.
Kansas lost that game, 15-14 to Penn State, when the Nittany Lions were given a second chance at a two-point conversion in the final minute after KU's defense was flagged for having 12 men on the field while stuffing Penn State's first attempt at the game-winning score.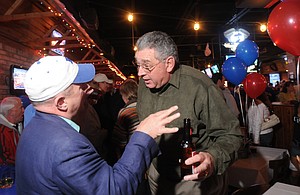 The Orange Bowl was KU's first bowl appearance since 1961 and marked the program's first trip to the Orange Bowl since 1948. KU returned to the Orange Bowl in 2008, when they knocked off Virginia Tech to finish the 2007 season with a 12-1 record.
In 2008, Zook and several of his former KU teammates had a reunion in Florida ahead of the Jayhawks' victory.
Zook's name appears in KU's ring of honor at David Booth Kansas Memorial Stadium and he was inducted into the Kansas Sports Hall of Fame in 2007.
His bio on the KSHOF.org web site features high praise from Rodgers.
"He never played but full speed from snap one to snap 100," Rodgers said of Zook. "He was the most full-speed player on every snap that you could imagine."
One of six Jayhawks taken in the 1969 draft, Zook was a fourth-round pick (No. 99 overall) of the Rams. After a pair of trades, he wound up starting his NFL career in Atlanta, where he starred from 1969-75.
Zook never missed a game during his tenure with the Falcons, starting 97 of 98 contests. In 1973, Zook was selected to his only Pro Bowl.
Following the 1975 season, Zook was dealt to St. Louis in 1976 and he played his final four professional seasons with the Cardinals, starting 134 of the 144 games he played.
Zook had four career interceptions and notably recorded the first safety in Falcons history in 1971.
John Zook's Speech at the Kansas Sports Hall of Fame Induction in 2007
— The Associated Press contributed to this report.