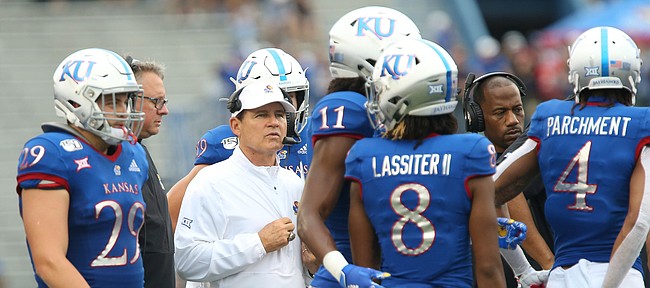 The Kansas football program hasn't identified a replacement for 2019 starting quarterback Carter Stanley — and without the chance to observe players in spring football, coach Les Miles says the QB contest hasn't even truly begun.
"There's no race," the second-year head coach recently told the Journal-World. "You can't call a winner until there's a race."
In some ways, that race will begin in the next couple of weeks, when KU welcomes its football players back to campus starting June 15 in accordance with Big 12 Conference rules. But even that move, strictly for voluntary workouts, doesn't mean much in the big picture of returning to the field and finding a starter. Coaches and players will never get back the time they lost from the cancellation of spring practices, and Miles said that's had a major impact on the search for Stanley's replacement.
"There's no question that if you had the opportunity to have spring ball, you would know exactly where they were in the spring," Miles said.
Miles and KU offensive coordinator Brent Dearmon know precious little about the current status of the players vying for the right to take the snaps for the Jayhawks this fall. But there are two who have played meaningful snaps in the past and therefore could have a slight edge — senior Thomas MacVittie and redshirt junior Miles Kendrick.
Kendrick appeared in four games in 2018 and then sat out all of last season with an injury. MacVittie, who transferred to KU before last season, played in two games for the Jayhawks and three games at Pitt in 2017.
Incoming freshman Jalon Daniels and junior returner Miles Fallin should also be in the mix when the competition heats up later this summer. Daniels told the Journal-World this week that he expected to arrive in Lawrence in July.
All four of those QBs, along with sophomore Jakob Ahlschwede, redshirt freshman Jordan Preston and true freshman Jordan Medley, have met with Dearmon in a virtual capacity over the past couple of months. But Miles was quick to point out that, as helpful as those online sessions have been, they don't come close to replacing the reps they could be getting on the field with their teammates.
"We would normally have a 7-on-7 (session) that would be run by the kids," Miles said. "Because of the coronavirus, we don't have that. So, with that in mind, we really only can tell you where they are mentally."
Miles stopped short of doing that, but did explain what those mental reps have looked like.
"Dearmon's got them in a (virtual) room, and we're looking at film (and asking them), 'What are you looking at? Where are your eyes? What's your thought process? What are you doing?" he said. "... So Dearmon will know exactly where they're at mentally coming out of there."
Although the offseason setup is different, the delay in identifying a starting quarterback isn't exactly new territory for Kansas.
Last season, KU did not announce its starting QB until Stanley took the field for the first offensive series of the season on Aug. 31. And in the post-Todd Reesing years before that, former KU quarterbacks Kale Pick, Montell Cozart and Peyton Bender all had to wait well into August before learning that they had won the starting job.
A similar path could unfold in the coming months as Miles and his offensive staff search for this season's starter.
"We have a number of guys that have really worked hard and understand our offense," Miles said. "So we'd expect that we would have a good, competitive fall camp and make some decisions then."