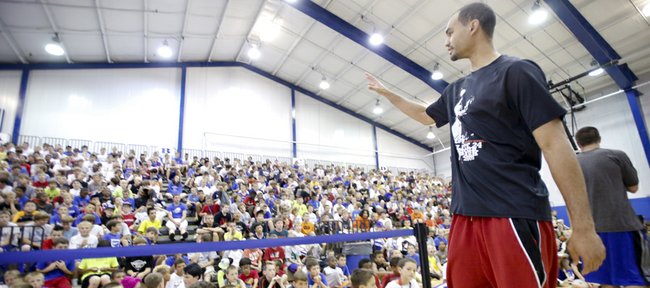 In the end, it looks like the Kansas men's basketball program's offseason will wind up being delayed by about a month.
In response to the Big 12 Conference's Monday release of its complete return-to-campus guidelines, KU coach Bill Self told the Journal-World that he was targeting a July 6 return to Lawrence for his players.
The first Monday of July is the first day that the Big 12 is allowing men's and women's basketball players to return to campus. It follows the June 15 return date for football players and the July 1 date for all other fall sports athletes.
As things currently stand, all of KU's student-athletes will be allowed back on campus starting July 15.
All of the aforementioned dates are for voluntary athletic activities.
Under normal circumstances, Self's players typically spend 2-3 weeks after finals in mid-May in their hometowns before returning to Lawrence for the start of summer workouts during the first week of June.
The one-month delay is not the only aspect of the 2020 summer that will be different for Self's Jayhawks. There also will be new rules to follow and many of them are designed with social distancing measures in mind.
All workouts will be strictly voluntary, and all required virtual team activities will be limited to eight hours per week.
No in-person required team activities or in-person voluntary team activities will be permitted, regardless of location.
Coaches can provide their athletes with written workouts and taped demonstrations of proper form and technique, provided the material is approved by the school's sport performance and medical personnel and follows NCAA rules.
In-person, on-campus meals and nutritional supplements may be provided, and the Big 12 rules state that all treatments, physical therapy and rehab, academic support and mental health and wellness support are "fully permissible."
The Jayhawks also will miss out on their opportunity to make extra cash by working camps this summer.
Self's youth camps and annual fantasy camp have been canceled altogether. And Washburn University basketball coach Brett Ballard, who has sought camp assistance from several Jayhawks during recent years, said Monday that his camps had been postponed until at least July.
Even if the WU camps wind up taking place, Big 12 guidelines for this summer prohibit student-athletes and athletic department staff from participating through Aug. 31.
According to the release, the rules outlined in Monday's Big 12 Student-Athlete Athletic Activities Policy will remain in place until further notice and the conference's board of directors will continue to meet regularly to address changing circumstances and amend its policies if needed.