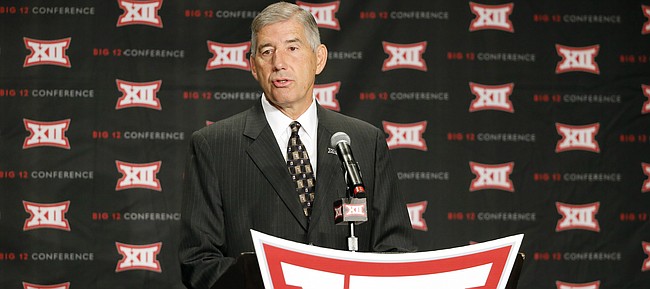 For the second time this summer, the Big 12 Conference has canceled its virtual media day for the 2020 football season.
The event was originally slated for July 20-21 and rescheduled for Aug. 3. Conference officials announced the latest cancellation in a news release Thursday afternoon and said it was not yet known whether the event would be rescheduled again.
"There continues to be a lot more questions than answers about what the football season will look like," Big 12 Commissioner Bob Bowlsby said in a statement.
Scheduling uncertainty was cited as a major reason for the second cancellation.
"A media day is intended to talk football and the prospects for the season," Bowlsby said. "Part of that discussion is who you will be playing and when. With the ongoing consideration of scheduling models by our Board of Directors, this is the best course of action at this time."
The Big 12's Board of Directors was expected to meet sometime Thursday to discuss the 2020 scheduling options as other conferences, big and small, continue to make their own adjustments that have impacted several Big 12 schedules.
On Wednesday, the ACC moved to an 11-game season, with 10 conference game and one nonconference game. The lone stipulation there was that the nonconference game had to take place in the same state as the ACC school.
Kansas, which had a home game scheduled versus ACC program Boston College, and fellow Big 12 member West Virginia, which was slated to play Florida State at a neutral site, were among those impacted by the ACC's changes.
On Thursday, multiple reports indicated that the SEC had joined the Big Ten and Pac-12 in moving to conference-only schedules for the 2020 season, leaving the Big 12 as the lone Power Five program to still be considering a full 12-game season.
Wednesday evening, Stadium's Brett McMurphy reported sources saying that the Big 12's top three scheduling options were to play 12 games, to play nine Big 12 games and one nonconference game or nine Big 12 games only.
McMurphy also noted that his sources said that the 12-game option was the most unlikely of the three as of Wednesday night.