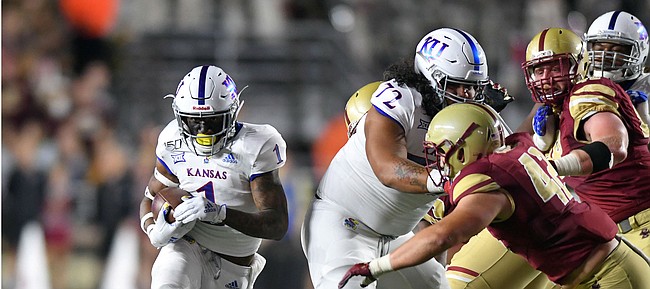 Wednesday's newly unveiled plans for the 2020 football season in the Atlantic Coast Conference figure to have a direct impact on the Kansas football schedule.
In addition to moving to an 11-game format, with one nonconference opponent and 10 league games, the ACC on Wednesday announced that it would require all nonconference games to be played in the state of the ACC school.
That likely eliminates KU's Sept. 19 matchup with Boston College scheduled at David Booth Kansas Memorial Stadium, but does not necessarily eliminate the matchup altogether.
KU has yet to respond to inquiries about the ACC's decision, but it's possible that KU and Boston College could remain foes so long as the game was moved to Massachusetts.
In addition to working out the scheduling component, KU would have to agree to meet medical protocol requirements set forth by the ACC in order for the game to happen.
The latest roadblock in KU's 2020 schedule comes less than a week after the Jayhawks announced the scheduling of a game with Southern Illinois on Aug. 29 to replace the original season opener with New Hampshire on Sept. 5.
Earlier this month, UNH's athletic department canceled all of its fall sports for 2020, leaving KU with a hole at the top of its schedule.
On the same day that UNH pulled out, KU Athletic Director Jeff Long contacted Southern Illinois AD Liz Jarnigan and the two began a week-long discussion to finalize plans for a new game.
If KU and Boston College do not come to some sort of an agreement about the Sept. 19 game, Long could find himself on the phones again, searching for another foe like Southern Illinois to replace the Eagles on KU's current schedule.
As of 5:45 p.m. Wednesday evening, BC remained on KU's football schedule on Kansas Athletics' official website.
Meanwhile, Boston College's official athletics website did not list any games for the 2020 football season.
Kansas and Boston College met during nonconference play in 2019, with the Jayhawks winning 48-24 in Chestnut Hill, Mass.