Earlier this week, two of the Kansas football program's most dynamic offensive players were named to watch lists that honor all-around versatility.
Junior running back Pooka Williams Jr. was one of 90 players named to the preseason watch list for the Maxwell Award, given annually to college football's most outstanding player. And senior wide receiver Stephon Robinson Jr. was named to the watch list for the Paul Hornung Award, given annually to the most versatile player in college football.
Awards and watch lists are nothing new for Williams, who has earned several all-Big 12 honors and been on a handful of weekly and season-long watch lists throughout his first two seasons at KU.
Last week, the New Orleans native was named to the Associated Press' preseason all-Big 12 first team.
The two Jayhawks combined for 2,262 all-purpose yards in 2019, with Williams leading KU in rushing yards (1,061) and also providing a receiving threat out of the backfield.
Robinson, a native of Los Angeles, ranked among the top receivers in the Big 12 in 2019 (727 yards and eight touchdowns on 45 receptions) and also returned 11 kicks for 247 yards.
Robinson's 987 all-purpose yards from 2019 rank seventh among all returning Big 12 players while Williams' 1,275 yards from 2019 rank second.
Williams came to KU before the 2018 season as one of the highest-rated prospects the Jayhawks had landed in years. He was ranked as the 11th best all-purpose back in the country by ESPN and recently was voted as the best high school running back in Louisiana history by a series of polls and fan votes by Varsity Sports Now Louisiana in his home state.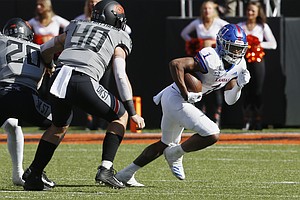 Robinson came to KU the same season after spending his freshman year at El Camino CC, where he led the team with 62 receptions and 1,274 yards, earning him a three-star ranking from Rivals.com.
He has played in all 24 games since joining the Jayhawks.
The Paul Hornung Award was created by the LSC in January 2010 with the support of Paul Hornung, who is considered by many the most versatile player in the history of college and pro football.
Hornung won the 1956 Heisman Trophy at quarterback for Notre Dame and was the No. 1 pick in the 1957 NFL draft. He played every position in the backfield during his career with the Irish, where he also punted, kicked, returned kicks and played defensive back.
In its 84th year, the Maxwell Award has been presented to the College Player of the Year since 1937 and is named in honor of Robert "Tiny" Maxwell, a former standout at Swarthmore College and a renowned sports writer and football official.