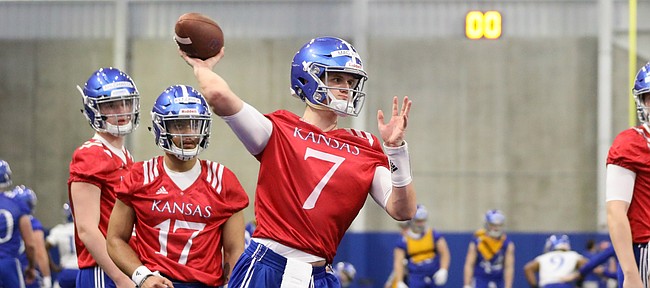 The University of Kansas football program resumed voluntary workouts on Wednesday, 19 days after suspending offseason activities because of a dozen positive COVID-19 tests.
KU Athletic Director Jeff Long announced Wednesday that 90 COVID-19 tests conducted last Saturday produced four positive results. Long said the 4.4% positive rate was low enough for physicians at Kansas Team Health to recommend that the Jayhawks get back to work.
"The four individuals are currently following isolation protocols established by our health care physicians and public health professionals," Long said in a statement.
After starting testing and voluntary workouts in mid-June, KU suspended voluntary team activities on July 3, when 12 players tested positive for COVID-19.
That triggered a 14-day self-quarantine period for all players and staff, and Long told the Journal-World last week that the decision to test over the weekend — a couple of days after the 14-day period was up — was made in the name of caution.
Long said last week that there was no set number or percentage requirement for moving forward.
"The medical doctors and medical professionals are really making the decisions for us when it comes to the virus and how we conduct our business in coming back to play," Long told the Journal-World.
In the meantime, Long and other administrators in the Big 12 Conference have continued to work toward having a full football season this fall.
KU officials are currently searching for a replacement on the schedule for New Hampshire, which pulled out of its Sept. 5 game with Kansas last week, and they continue to monitor medical developments while their student-athletes and coaches prepare for the season.
"They want to play," Long told the Journal-World. "... There's always risks. But if we can get it to an acceptable level of risk for all of our student-athletes and our coaches and staff, then that's what we want to do."
The next key date arrives Friday, when coaches are allowed by NCAA rules to work more closely with their athletes for longer periods of time. Until then, the workouts will remain strictly voluntary and will unfold without KU's coaching staff present.