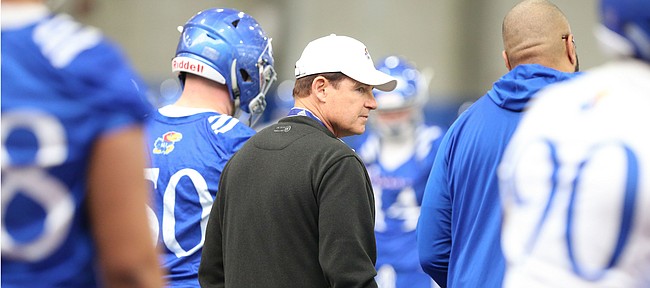 The Kansas football program is suddenly without an opponent for the first week of the 2020 season, as the University of New Hampshire announced Friday that none of its fall sports teams would play this year.
Just after noon on Friday UNH officially announced that "no Wildcat fall sports teams will compete in intercollegiate athletics in the upcoming semester as a result of the global COVID-19 pandemic."
KU and New Hampshire were scheduled to meet in the season opener for both teams on Sept. 5 at David Booth Kansas Memorial Stadium.
The announcement came just minutes after New Hampshire's football conference, the Colonial Athletic Association, announced that its board of directors had voted to suspend all conference competition scheduled for the fall semester.
KU Athletic Director Jeff Long said in a statement that UNH AD Marty Scarano informed KU of the news earlier in the day. Long also noted that KU and the Big 12 Conference remained focused on fielding "a full non-conference and conference football schedule this fall."
"We have begun exploring all opportunities to fill the opening on our schedule that was created by New Hampshire and will provide an update when available," Long said.
KU coach Les Miles said in a statement that he was disappointed by the news and would "fully support Jeff Long and the Big 12 Conference as they continue to explore our options for the fall season."
The CAA, along with New Hampshire's basketball conference, the America East, are the latest mid-major conferences to cancel fall sports, and the list appears to be growing by the day.
The Power Five conferences, however, remain in wait-and-see mode, with the Big Ten and Pac-12 recently announcing the elimination of nonconference games but still planning a fall season and the Big 12, ACC and SEC waiting for more information to surface before making any decisions about their fall seasons.
"We've got a lot of information flowing a lot of different ways," Long told the Journal-World earlier this week. "And we're trying to bring it all together. We're moving very deliberately based on the advice and counsel of our team physicians, both on our campus and at the Big 12."
During the midweek phone interview, Long said he would tell KU fans to "remain optimistic," but he noted that the situation is still in flux.
"With more information down the road, we may make a different decision," he said.