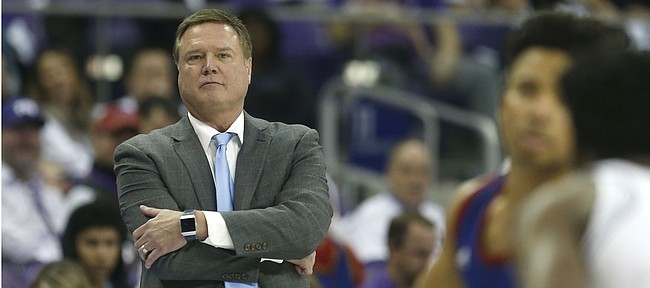 The Kansas men's basketball program is pushing its return-to-campus date back for the second time in three weeks in response to the recent rise in COVID-19 cases, KU coach Bill Self told the Journal-World on Wednesday.
The Jayhawks now are aiming to return on Aug. 2, Self said. That date is nearly a full month after the initial return-to-campus date Self and the Jayhawks were hoping for, July 6, and it's roughly two months later than the typical return date, which usually coincides with the start of the first session of summer school in early June.
Seniors Silvio De Sousa and Marcus Garrett have been in Lawrence for a while, but the rest of the players on KU's 2020-21 roster, including Netherlands native Tristan Enaruna, have been back home with their families, working out on their own with the help of instruction and input from the KU coaching staff and strength coach Ramsey Nijem.
Basketball coaches are allowed to work with players again on a limited basis starting Monday, but Self has said that the reward of having his players back on campus would have to outweigh the risks and that things are not yet at that point.
The basketball program's delay will have far less impact than those facing the KU football team and athletes from other fall sports programs, but it is yet another sign of how out of sorts the college sports landscape has become.
On the football front, KU is closing in on the end of its 14-day self-quarantine period for all student-athletes and staff following the suspension of voluntary team workouts on July 3.
At that time, KU officials announced that workouts would be shut down for two weeks and that all student-athletes and staff would be retested after that 14-day period to determine whether conditioning activities could resume.
Also, the Big 12 Conference athletic directors and leaders met on Tuesday to further discuss the 2020 college football season, and Commissioner Bob Bowlsby continues to favor a patient approach.
"We've been advised to move forward slowly and constantly reevaluate, and that's what we'll keep doing until we've been told it's inadvisable," Bowlsby told the Dallas Morning News.
KU Athletic Director Jeff Long told the Journal-World on Wednesday that the conference ADs have met once or twice per week since the Big 12 basketball tournaments were canceled in mid-March.
"We've had more contact as ADs, and with our commissioner, than ever before through this process," Long said.
Long said the rapid rate at which new information about the pandemic surfaces can create challenges that weren't always expected when the ADs first started meeting about finding a way to play football and other sports this fall.
"This is such an unusual time," Long said. "Because, within those meetings, the pendulum is swinging wildly back and forth, from indications that it's going to be difficult to have a football season on time and then it can swing back with news of different testing that's coming. ... We're taking it all in and trying to take the next steps to hopefully playing and competing this fall."
While KU's own team physicians and medical professionals with Kansas Team Health have played a role in the meetings and discussions, Long said the Big 12 also has received guidance from physicians and experts at the NCAA level and from outside consultants working directly with the Big 12.
Bowlsby told the Dallas Morning News that developments in the pandemic during the next two to four weeks will play a critical role in determining the future of fall sports in the Big 12.
The Big Ten and Pac-12 already have altered their 2020 football schedules, doing away with nonconference games for the upcoming season. But the Big 12, ACC and SEC remain in a holding pattern and appear to be content to wait it out a little longer.
"We're going to keep taking steps forward," Long said. "We're still very positive about having the season, but we know that with every turn of the corner, every day, every week that goes by, we'll get more information … We want as much information as we can get to make the best decisions."