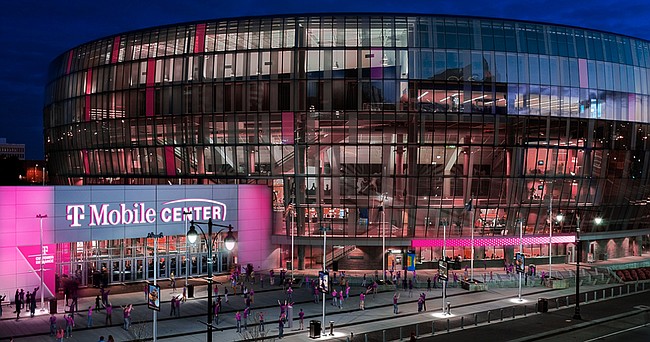 It remains to be seen if the 2020-21 college basketball season will be played as currently scheduled.
But if it is, Bill Self's Jayhawks will have a new venue on their slate — sort of.
In the aftermath of its recent merger with Sprint, T-Mobile announced this week that the venue known as Sprint Center since 2007 now will be called T-Mobile Center through at least 2032.
In addition, the building, which had used Sprint's signature yellow as its primary accent color, will be getting a magenta-inspired facelift, as well, to better match T-Mobile's branding.
"I couldn't be prouder to announce T-Mobile Center and show the Kansas City community that we're deeply invested in the home of our second headquarters," T-Mobile CEO Mike Sievert said in a news release announcing the move. "We're proud to be with you, and when it's safe to re-open, we're bringing you some incredible experiences,"
One such event already on the schedule is the renewal of the basketball rivalry between Kansas and Missouri currently scheduled for Dec. 12.
The 2021 men's basketball Big 12 tournament is also slated for T-Mobile Center, March 10-13.
Kansas is 42-10 all-time inside the venue, with the majority of those wins coming in postseason play, either the Big 12 tournament or NCAA Tournament.
That mark does not include three exhibition victories, two of which came over Canadian clubs in 2015 and one over Missouri in a fundraiser game for hurricane relief in 2017.
According to the release, T-Mobile Center plans to open a fast pass entrance for T-Mobile and Sprint customers on the corner of 13th Street and Grand Boulevard. All that's needed to access the new entry is a ticket and a Sprint or T-Mobile phone.

T-Mobile also plans to introduce several fan-experience upgrades throughout the venue and will continue to offer free Wi-Fi to all visitors.
"We're thrilled to team up with one of the world's most innovative and fan-focused partners in T-Mobile to offer amazing entertainment experiences in Kansas City," said Bob Newman, President and CEO of ASM Global, which runs the venue.