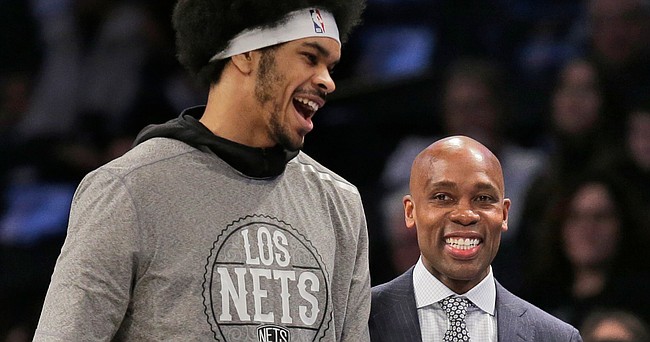 While the upcoming restart to the NBA season will be big for a handful of former Jayhawks still chasing a title, it may be even bigger for former KU point guard Jacque Vaughn.
Vaughn, who graduated from KU in 1997 and played 12 seasons in the NBA with five different franchises, is currently holding a lottery ticket that could be worth a lot.
The goal: Don't lose it.
Four days before NBA officials shut down the 2019-20 season because of the COVID-19 pandemic in March, Brooklyn promoted Vaughn to interim head coach after deciding to move on from head coach Kenny Atkinson.
Vaughn won his first two games with the franchise and now will be asked to take a Bad News Bears bunch to Orlando for life both in and on the bubble.
Superstars Kevin Durant and Kyrie Irving already are out for the season with injuries. Big man DeAndre Jordan, who recently tested positive for the virus, is done, too. And point guard Spencer Dinwiddie, who also tested positive, is out, as well.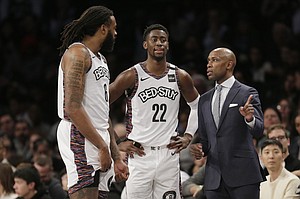 Add to that the fact that starting power forward Wilson Chandler has opted out of the rest of the season and you're looking at a Brooklyn team that will be without a solid starting five.
The Nets enter the restart a half game ahead of Orlando for the No. 7 seed in the Eastern Conference and six games up on Washington, which sits in ninth place. So the odds, on paper, are pretty good that Brooklyn will play at least one series when the NBA playoffs get going later this summer.
They'll have to win at least a couple of games to get there, and that's about as good of an opportunity as Vaughn can ask for to prove he has what it takes to lead this franchise into the future.
A good showing in Orlando, without front-line talent, could keep Vaughn employed with the franchise heading into the 2020-21 season. And that's where that whole lottery ticket thing comes into play.
In addition to the expected return of Durant and Irving to full health, the Nets have a couple of promising young players and might also be able to add a valuable piece through the draft.
Durant and Irving alone is enough to become a contender. At that point, all a coach has to do is keep everybody motivated and happy like Tyronn Lue did on his way to a title with Cleveland a few years back. It's arguably as good of a situation as a coach could ask for in the NBA today.
Vaughn can coach and he knows the game inside and out. Former KU coach Roy Williams always used to praise Vaughn for his intelligence and poise, and his teammates appreciated his natural leadership traits.
Whether those things show up in the difficult environment that is the completion of the 2019-20 NBA season remains to be seen. But if they do, Vaughn could cash in big time.
Brooklyn General Manager Sean Marks was asked about the future of the Nets head coaching position, and Vaughn specifically, during a recent conference call. It's clear that Marks is a fan of the former Jayhawk.
"I think the evaluation is ongoing," Marks said, according to the New York Daily News. "What I've witnessed so far with Jacque and the group here, the empathy that they've shown and their care and honestly selflessness has been amazing."
To that end, the Nets GM said Vaughn's case will not be based solely on how the team performs in Orlando, though that has to play some role.
"I think it's completely unfair to say it's going to be about wins and losses at this point," Marks said on the conference call. "I think Jacque has been a permanent part of this organization the last four years. I've had plenty of great conversations with Jacque. Probably too many for his liking since we're on either Zoom or Facetime I feel like it's five or six times a day. We have a very close relationship and a very honest and open relationship, too."
Vaughn owns a 60-158 overall record in three-plus seasons as an NBA head coach, with all but two games coming in Orlando from 2012-15. He also spent a handful of years as an assistant coach in San Antonio (2010-12) and Brooklyn (2016-20).
True to form, the former KU point guard is making what lies ahead all about the organization, not his personal audition.
"As a coach, you're always trying to galvanize a group and prepare them to win basketball games," Vaughn said on the same conference call. "That will be the objective in the eyes of the coaching staff. So I have to be totally-in in all aspects. That is coaching them to make them better, coaching them to win basketball games, but at the same time, I will consistently be concerned about their thought process, their mental health (and) their growth as human beings as we go into this situation together."
More like this story on KUsports.com