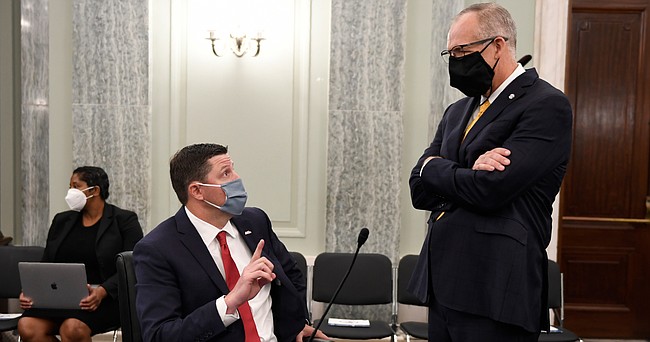 Southeastern Conference Commissioner Greg Sankey told a U.S. Senate committee Wednesday that there needs to be a uniform federal law to regulate the compensation of college athletes instead of a series of state-level versions with differing requirements.
Sankey was part of a panel discussing the potential impact of allowing athletes to profit from the use of their name, image or likeness (NIL). Three states have already signed athlete-compensation bills into law and others are considering their own versions; Florida's set to be the first to take effect next summer.
"It would be difficult and confusing," Sankey said when asked about managing various state laws among the league's 14 member schools. "Knowing the competition within my 11 states, I can foresee quickly the other 10 one-upping each other. And I think that's a problem for fair and equitable competition."
Kansas basketball coach Bill Self, who has been in favor of college athletes profiting from their name, image and likeness, took the same stance as far back as last October.
"Whatever happens, let's just make sure it's an NCAA rule that's uniform as opposed to a state by state rule," Self said at the time.
A month earlier, Big 12 Commissioner Bob Bowlsby said the same.
"The schools in our conference and those throughout the United States seek a national recruiting and national competitive environment that can only be accomplished with fair and uniform rules and policies," Bowlsby told the Journal-World via email.
A federal law would eliminate some of those issues, but the NCAA would like a say in what it might look like and has been busy on Capitol Hill recently, as have the major college sports conferences.
Sankey was joined by Mississippi vice chancellor for intercollegiate athletics Keith Carter and Ohio State president emeritus Michael Drake, the chairman of the NCAA's board of governors that signed off in April on recommendations to allow athletes to reach endorsement deals. Former Miami and NFL player Eric Winston also testified with University of Baltimore law professor Dionne Koller.
In a filing with the committee, Sankey also wrote that the five power conferences — the SEC, the Atlantic Coast Conference, the Big 12, Big Ten and Pac-12 — support the consideration of preventing athletes from reaching NIL deals during the "pre-enrollment process" and the first semester of college courses.
In his own filing, Carter wrote that Ole Miss supported having an independent organization provide national oversight of NIL issues while arguing that federal legislation would "provide much-needed clarity" and a uniform national structure for schools to follow.
— Journal-World Sports Editor Matt Tait contributed to this report.