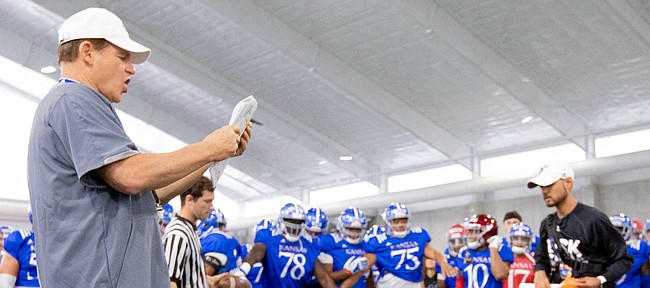 The NCAA has amended the Notice of Allegations it sent the University of Kansas a little more than four months ago to add a minor violation that the university self-reported, and KU will now have more time to respond.
The NOA was amended on Thursday to add the new football-related allegation, which involves impermissible actions by noncoaching staff.
Unlike the other allegations against the football program, which are Level II violations and allegedly took place under former head coach David Beaty, the new one is a less severe Level III violation. It reportedly took place in 2019, after Les Miles took over the program.
With the additional allegation being added to the NOA, the deadline for KU's response to its alleged men's basketball and football violations has been extended from Feb. 19 to March 5.
The initial document the NCAA sent KU this past September included a charge of a lack of institutional control, three Level I violations in the men's basketball program and Level II violations committed by KU football.
The Level III allegation involves what the KU athletic department described as "a small number of instances of incidental, impermissible relaying of tactical or technical information" by staff members who worked in noncoaching roles.
"Level 3 violations are not uncommon when you have an active and thorough compliance program, and given the volume of NCAA rules and interpretations of them, it is possible that inadvertent, incidental violations may occur from time to time," KU Athletic Director Jeff Long said in a released statement. "When we learned of potential violations, we immediately reported them to the NCAA, which is our obligation. We look forward to the resolution of this matter with the NCAA."
The original version of the Notice of Allegations outlined alleged misconduct by the football program, citing the use of a noncoaching staff member, then-video coordinator Jeff Love, in a coaching role.
The amended version KU received on Thursday included instances of KU football, during spring and fall practices in 2019, violating the NCAA's legislated limits for the number of coaches and duties of noncoaching staff members.
Two special teams staffers, the document states, occasionally participated in on-field activities and assisted with football drills. The two staffers, the amended NOA details, provided technical or tactical instructions to players "on a limited basis," thereby exceeding the limit on the number of coaches.
NCAA enforcement staff described the instances in the amendment as Level III violations because they were isolated and provided a "minimal" competitive advantage.