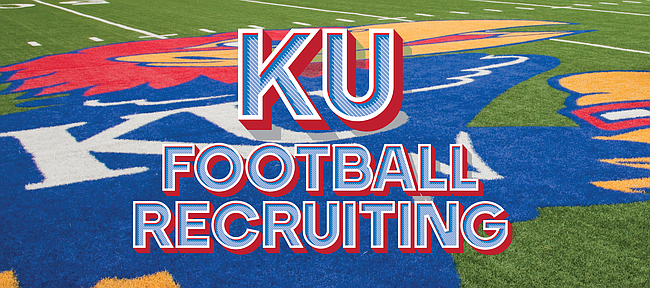 A little more than a week before college football's National Signing Day, Kansas lost commitments from a couple of potentially promising high school prospects in the Class of 2020.
Chris Jones, a 6-foot-4 defensive end from Pompano Beach, Fla., announced Monday night his plans to reopen his recruitment, a little more than five months after committing to the Jayhawks.
Then on Tuesday night, Ja'Cobee Bryant, a cornerback from Evergreen, Ala., backed out, as well.
"I am decommitting from Kansas and 100% open," Jones wrote on Twitter.
A note Bryant tweeted out stated he wanted to thank KU head coach Les Miles and the staff for recruiting him, and that he was decomitting.
For Jones, the decision came after he was one of many prospects visiting KU this past weekend.
A three-star pass rusher according to Rivals, Jones, even before giving his nonbinding verbal pledge to KU back in August of 2019, had scholarship offers from Florida State, Nebraska, Maryland, Penn State, Central Florida and several other programs.
Bryant committed to KU back in June, this past summer. Rivals currently has him ranked as the 27th-best prospect in Alabama. Previously, Bryant also received scholarship offers from Kentucky, Memphis, Tennessee, Virginia, Virginia Tech and several other programs.
For various reasons over the past several months, 12 different Class of 2020 recruits severed ties with Kansas after initially committing to the Jayhawks.
With Jones out of the mix, KU's class now has two players listed as defensive linemen. Three-star defensive end Caleb Taylor signed with KU in December and is enrolled for the spring semester as an early graduate from Staley High School, in Kansas City, Mo. Kenean Caldwell, a three-star defensive tackle from Louisiana, visited KU this past weekend, too, and can make his commitment official Feb. 5, on National Signing Day.
KU announced the signing of 19 high school seniors in December. With Jones decommiting, the Jayhawks' now have 25 high school players — the maximum allowed in a year by the NCAA — in their 2020 class.
Four members of KU's class are currently verbally committed but unsigned: Caldwell, three-star offensive lineman Jackson Satterwhite, two-star Topeka quarterback Da'Vonshai Harden Jr., and two-star O-lineman Bryce Cabeldue.
KU has yet to announce the signing of two-star receiver Kyler Pearson. But that should come once he has officially been accepted through KU's student application process and cleared by the NCAA to participate, Pearson told the Journal-World.
- Former 2020 KU commitments
(Rivals recruiting rankings listed)
• Brennon Scott - 4-star LB from Texas (committed to UNLV)
• Khari Coleman - 3-star DE from Louisiana (flipped to TCU, signed)
• Keith Miller III - 3-star WR from Texas (flipped to Colorado, signed)
• Jaylin Richardson -3-star athlete from Kanas City, Kan. (signed with Northern Iowa)
• Chris Jones - 3-star DE from Florida
• Jackson Stoefen - 3-star OL from Iowa (signed with Toledo)
• Ja'Cobee Bryant - 3-star CB from Alabama
• Keenan Hambrick - 2-star WR from Alabama
• Kershawn Fisher - 2-star LB from Louisiana (signed with Louisiana Tech)
• Tommy Brandt - 2-star OL from Minnesota
• Juan Jarrett - 2-star LB from Ohio (signed with Akron)
• Tanner Hooker - 2-star CB from Louisiana
KU football's announced 2020 signees
√ Garrett Jones - 3-star OL from Michigan; 6-4, 285 pounds
√ Will Huggins - 3-star TE from Kansas; 6-7, 235 pounds
√ Caleb Taylor - 3-star DE from Missouri; 6-2, 255 pounds
√ Trevor Kardell - 3-star TE from Lee's Missouri; 6-5, 225 pounds
√ Krishawn Brown - 3-star LB from Oklahoma; 6-1, 200 pounds
√ Taiwan Berryhill - 3-star LB from Louisiana; 6-2, 200 pounds
√ Steven McBride - 3-star WR from Louisiana; 6-0, 160 pounds
√ Johnquai Lewis - 3-star CB from Florida; 6-0, 185 pounds
√ Tristan Golightly - 3-star WR/TE from Texas; 6-4, 200 pounds
√ Lawrence Arnold - 3-star WR from Texas; 6-3, 185 pounds
√ Malik Johnson - 3-star WR from Texas; 5-9, 180 pounds
√ Nicholas Martinez - 3-star OL from California; 6-5, 285 pounds
√ Duece Mayberry - 3-star CB from Oklahoma; 6-0, 185 pounds
√ Alonso Person - 3-star LB from California; 6-3, 200 pounds
√ Luke Grimm - 3-star WR from Missouri; 6-0, 170 pounds
√ Daniel Hishaw Jr. - 2-star athlete from Oklahoma; 5-10, 200 pounds
√ Armaj Adams-Reed - 2-star OL from Texas; 6-5, 350 pounds
√ Karon Prunty - 2-star CB from Virginia; 6-1, 190 pounds
√ Jalon Daniels - 2-star QB from California; 6-0, 207 pounds
KU football 2020 unsigned commitments
• Kenean Caldwell - 3-star DT from Louisiana
• Jackson Satterwhite - 3-star OL from Oklahoma
• Da'Vonshai Harden Jr. - 2-star QB from Kansas
• Kyler Pearson - 2-star WR from Oklahoma (signing not yet announced by KU)
• Bryce Cabeldue - 2-star OL from New Mexico