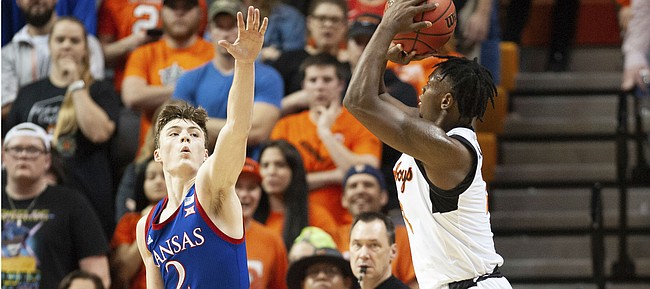 Stillwater, Okla. — In his first start as a member of the Kansas men's basketball program, KU freshman Christian Braun brought a little extra help to the court with him on Monday night.
Wearing his usual white Adidas high tops, with three blue stripes, Braun used a black Sharpie to write the words, "RIP Gigi #2, 1-26-20" on the outside heel of his left sneaker. On the other shoe, Braun wrote, "Mamba Mentality."
The writing was a memorial of sorts for NBA legend Kobe Bryant and his daughter, Gianna, who died in a helicopter crash in California on Sunday afternoon.
Several KU players, including Braun, jumped on Twitter on Sunday shortly after the news broke to express their sadness over the death of Bryant, a player whom so many young basketball players spent their childhood idolizing.
Shortly before Monday's game, in which third-ranked Kansas defeated Oklahoma State, 65-50, the public address announcer recognized the legendary Los Angeles Laker and "Gigi," along with junior college baseball coach John Altobelli, who also died in Sunday's crash along with six others.
"We would like to send our thoughts and prayers to the families of Kobe Bryant and John Altobelli," the PA announcer said as photos of all three people filled the video board above center court. "... We realize the impact an event like this will have on so many."
Tributes ran deep at Gallagher-Iba Arena on Monday night.
In addition to tipoff coming just 30 hours after Bryant's passing, Monday marked the 19th anniversary of the tragic Oklahoma State plane crash in Colorado that killed 10 members of the OSU basketball program in 2001.
One by one, "The 10," as they're affectionately known around here, were named and recognized before a moment of silence was requested for all of the departed.
Former KU walk-on Garrett Luinstra's father, Brian Luinstra, who served as a team trainer for the Cowboys in 2001, was one of those honored.
In addition to the pregame tributes, the KU-OSU game was moved off ESPN and onto ESPN2 so ESPN could re-air the final game of Bryant's career during which he scored 60 points with former Jayhawk Tarik Black on the Lakers bench and former Jayhawk Jeff Withey playing for the Utah Jazz against him.
"The Kobe news, I think, shook everybody," KU coach Bill Self said Monday in a pregame interview with radio voice of the Jayhawks, Brian Hanni. "It shook people that didn't know him. … Our players loved thinking of Kobe as their Michael (Jordan).
"There's no other sport, maybe soccer worldwide, that you can have somebody that can impact a community or a nation or the world in a way a basketball player can. It's played worldwide, you play without helmets on, you play enough games where fans can get to know you, individuals are marketed instead of teams. And certainly he was at the height of this generation as far as being admired and looked up to. And deservedly so."
Asked after the game if he thought it was tough for his players to focus on Monday's game given the death of the basketball icon, Self paid his own compliment to Bryant's fierce mentality and the competitive nature for which he was known.
"I think if you really respected Kobe, and what he stood for, you know you're supposed to play and play a certain way," Self said. "So I didn't see it as a negative for our guys."
Jayhawks still 3rd in polls
The top seven spots in the Associated Press Top 25 men's basketball poll remained unchanged this week, with Baylor, Gonzaga and Kansas rounding out the top three and receiving all of the first-place votes.
Kansas also was ranked third in the USA Today coaches poll, which also had Baylor first and Gonzaga second.
The gap between the Bears and Zags actually increased this week. A week ago, Baylor received 33 first-place votes to Gonzaga's 31. Baylor, which last week became the seventh different team to climb to the No. 1 spot in the AP poll this season, stayed on top and received 44 of the 64 first-place votes.
Gonzaga, which Baylor jumped a week ago despite the Zags not losing, stayed strong in the No. 2 spot and received 19 first-place votes. And Kansas remained in the bronze medal slot, picking up the lone remaining first-place vote after knocking off Kansas State and Tennessee at home last week.
KU now has been ranked in 213 consecutive AP Top 25 polls, bringing the Jayhawks closer to eclipsing UCLA's all-time record of 221 consecutive weeks in the AP Top 25.
Azubuike honored
After another big-time week in which he used his size and skill around the rim to lead the Jayhawks to a pair of victories, KU center Udoka Azubuike on Monday was named the Big 12 Player of the Week.
Azubuike posted back-to-back double-doubles in wins over Kansas State and Tennessee and averaged 14 points, 12.5 rebounds and four blocks per game last week for the third-ranked Jayhawks.
Azubuike entered Monday's game at Oklahoma State leading the nation in field goal percentage at 78.1% and leading the Big 12 in rebounds per game at 9.6. He also ranks second in the league in blocks per game (2.5) and double-doubles (8).
The honor was the first Big 12 Player of the Week nod in Azubuike's Kansas career and the fourth weekly honor received by a KU player this season.
This and that...
KU now leads the all-time series with Oklahoma State, 117-59... Kansas leads 38-35 in games played in Stillwater and 36-35 in games played at Gallagher-Iba Arena... Self is now 6-7 against his alma mater at Gallagher-Iba Arena and 21-13 against Oklahoma State overall, including a 20-10 mark while at Kansas... KU's win made the Jayhawks 6-1 or better in the Big 12 Conference for the 14th time in the Self era... KU now has won five in a row on the road and is 5-1 in true road games this season... KU is 9-2 this season in games played away from Allen Fieldhouse... Legendary OSU coach Eddie Sutton was in attendance at Monday's game. While being introduced to the home crowd during a first-half timeout, KU assistant coach Jerrance Howard stood facing Sutton and applauded throughout the timeout.