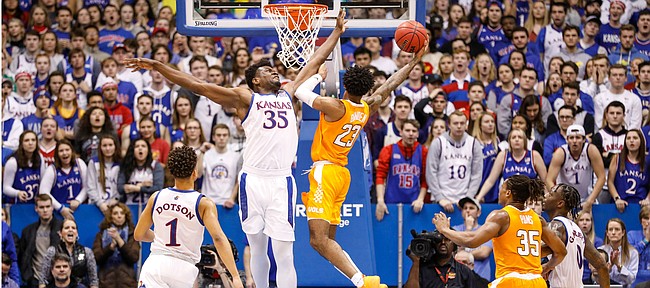 Kansas senior Udoka Azubuike has experienced plenty of days when his size and strength have been the difference.
But his presence on the floor rarely has meant more to KU's chances for success than it did on Saturday in a 74-68 victory over Tennessee at Allen Fieldhouse.
Down to just seven scholarship players because of the recent suspensions handed out to David McCormack and Silvio De Sousa — and with Azubuike serving as his team's lone big man — the 7-foot senior did all kinds of damage when on the court and third-ranked Kansas (16-3 overall, 5-1 Big 12) did enough to survive when he wasn't to hold off the Volunteers.
"It's very obvious we're not the same team with him not in the game," Kansas coach Bill Self said of Azubuike. "We need him in the game."
That's the way Self and the Jayhawks have felt all season. But it becomes particularly crucial when Azubuike is KU's only available frontcourt body.
Luckily for the Jayhawks, Azubuike's maturity and ever-improving conditioning have allowed him to play more minutes than ever and helped him play smarter while he's out there.
"We don't practice long," Self noted after Saturday's victory. "(But) he never comes out. It's like, 'Hey Dok, take a blow,' (and he says), 'No, I don't need to. I've got to run.'"
Photo Gallery
Kansas basketball v. Tennessee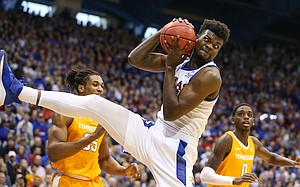 View a gallery of photos from Saturday's game between the Jayhawks and Volunteers at Allen Fieldhouse.
Foul trouble factored into Saturday's juggling of Azubuike's minutes, as the 7-foot center picked up his first foul less than five minutes into the game and his second before the 10-minute mark of the first half.
That forced Self to go to KU's never-before-seen, five-guard lineup, and the Volunteers (12-7, 4-2) outscored Kansas by 6 points during the 12:55 that Azubuike was on the bench.
During the 27:05 that he played, KU outscored Tennessee by 12.
"We were going to go at Azubuike from the beginning and we were going to keep doing that because he's a difference maker when he's out there," Tennessee coach Rick Barnes said after the game.
Azubuike finished with 18 points, 11 rebounds and four blocks while shooting 6-of-7 from the floor. He also knocked in 6-of-11 free throws and completely changed the feel and focus of the game for both teams whenever he was on the floor.
He checked out twice in the first half and twice in the second half, adding a little symmetry to an otherwise weird Kansas victory.
After checking back into the game with two fouls and 5:48 to play in the first half, Azubuike immediately made his presence felt, helping to jump-start an 18-4 run to close the first half that turned a 7-point Tennessee lead into a 7-point Kansas edge by halftime.
"Coach told me, 'You can't (try to) block (anything)," Azubuike recalled after the game. "It's better for me to stay in the game than to try to keep them from getting an easy 2 points."
The Kansas run eventually grew to 25-6, as the Jayhawks built a double-digit second-half lead. And almost all of it came on the back of Azubuike, who finished the game with six dunks and shot 4-of-6 from the free-throw line in the game's final five minutes.
"When we had Dok in the game, we were at our best offensively and defensively," sophomore guard Ochai Agbaji said. "He had a big impact on the game, and subbing him in and out was key."
Two of Azubuike's six made free throws came after Barnes' decision to intentionally foul the KU center with 4:19 to play and the Vols trailing 66-63.
Instead of missing both — or either — Azubuike buried the free throws, drawing a roar from the Allen Fieldhouse crowd.
"I don't know if I'd call it Hack-a-Shaq," said Barnes, noting the famous name of the strategy that first surfaced with former NBA center Shaquille O'Neal. "I'd call it playing the percentages, because (Azubuike's) not going to miss those (dunks). He'll put you and the ball in the basket."
Added Self of his center's two free throw makes: "Very subtly, that may have been the biggest play of the game."
Two minutes later, after Tennessee again had cut the KU lead to a single possession, Azubuike hit one of two free throws — this time the foul was not intentional — and the Vols never threatened again.
"Like I've told you, I'm not worried about my free throws," Azubuike said. "There's no pressure on me. I know it's a big topic for the media and stuff, but it's really not a big topic for me. I just go through my routine and if it goes in, it goes in. If not, it's next play."
As for Azubuike's 6-of-11 showing from the free-throw line, which pushed his season percentage from 40.5% to 42.4%, Self was elated.
"A month ago, we would've sold out for that," he said. "But I feel now that he could be a 60 or 70% free throw shooter after watching him every day."
It was not just Azubuike's offensive presence that helped Kansas cross the finish line first on Saturday. He also was a monster on defense, particularly late, when he blocked a pair of point-blank field goal attempts at the rim and intercepted a poorly thrown lob pass that killed Tennessee's chances at a comeback.
After the second block, which he knocked off the backboard and then grabbed for his 11th rebound of the day, Azubuike smiled and waved his finger to the Allen Fieldhouse fans as he raced back down the floor.
"I want to see personality," noted Self, revisiting an old plea to see more emotion and passion from his players. "But I don't want to see the (finger) wag. I think the wag is fine, but I don't think the wag (is) as good after Tuesday."
Tuesday, of course, was the night of the game that ended with the Jayhawks and visiting Kansas State fighting at the final horn. And with that incident still fresh in everyone's minds, Self said he would prefer to see his team show personality in other ways.
"I want guys to play with bounce and energy and smile and that kind of stuff," he said. "And I felt like we were kind of a stressed team out there today."
Saturday's victory, which came as a part of the annual Big 12/SEC Challenge, marked the 300th consecutive sellout inside Allen Fieldhouse. One of the 16,300 fans there for the party was former NFL quarterback and proud Tennessee alum Peyton Manning.