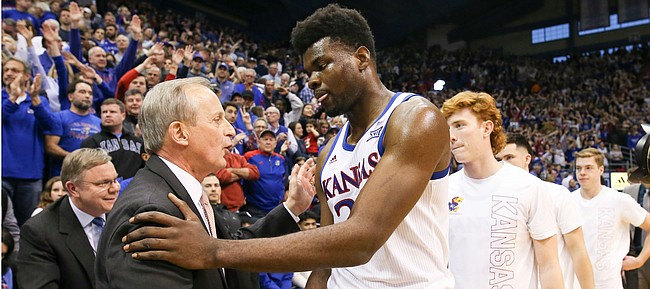 After spending the past several days absorbing hits in the form of national criticism for their roles in a nasty rivalry game fight, the Kansas Jayhawks returned to the scene of that brawl Saturday hoping to move past the ugliness.
They heard, thought and talked often about the encounter with Kansas State that left them without suspended bigs Silvio De Sousa and David McCormack, and now they had to take their first dose of medicine.
In fact, they were glad to, because it meant getting back to basketball.
"I feel like it was big, you know, given the week we had," sophomore point guard Devon Dotson said of the simple act of playing in a game. "It was a little down, but we wanted to challenge ourselves at practice coming off of it, and really just try to get out here and compete to the best of our abilities."
Finding some normalcy while preparing for and facing Tennessee didn't come painlessly. Sophomore guard Ochai Agbaji said after KU's 74-68 victory in the SEC/Big 12 Challenge that having seven rotation players — the Jayhawks mainly relied on just six versus the Vols — took some getting used to.
"Going through practice like that was kind of new," Agbaji said of McCormack and De Sousa not playing their usual roles. "But the way we adjusted and came out today and played was good."
Photo Gallery
Kansas basketball v. Tennessee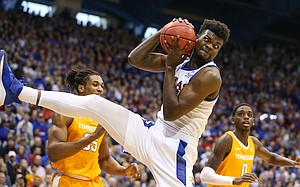 View a gallery of photos from Saturday's game between the Jayhawks and Volunteers at Allen Fieldhouse.
The relief came across in their voices and on their faces, even if their assessments of KU's performance were more forgiving than their coach's.
Bill Self's men's basketball program didn't need any more negativity hanging over it, with the NCAA's Notice of Allegations and the controversial Snoop Dogg performance at Late Night — featuring pole dancers and a money gun — still fresh on the minds of the public.
The melee with K-State, fair or not, brought all of those back to the forefront for some people.
After dealing much of this week with another off-the-court headache, Self was convinced his players, who were this time at the center of a controversy, just needed to compete again.
"I thought today would have been the easiest game of the year to get up for, with the week that we had," Self said, "but also because of the environment, with (ESPN's) GameDay and all that stuff, too."
Though his Jayhakws (16-3 overall) may have intended to feed off whatever emotions they were feeling, Self said they weren't able to pull it off.
"I didn't think we played to that enthusiastic, high-energy level like we could have," Self said. "The whole game plan was to try to pressure defensively. (Dotson's) leg's a little sore, he couldn't get out there and do that. So if you don't do that with your guy guarding the ball, usually you don't do it as much on the wings."
Without its typical defensive energy, especially when Udoka Azubuike left the floor due to foul trouble, Kansas saw the Volunteers (12-7) shoot 45.5% from the floor and stay within striking distance until the game's final minutes.
"So we really never had a chance to really play to what we wanted to do, just because of circumstances — nobody's fault," Self said. "And so I thought it was a pretty blah performance when I thought we would be really, really turned up."
The mentally draining portions of the week likely prevented the Jayhawks from peaking. It was just four days earlier that they saw De Sousa and McCormack involved in a physical courtside altercation that brought unwanted attention with it.
Dotson said both big men — McCormack has to sit out two games and De Sousa 12, per the Big 12's punishments — addressed their teammates since the fracas.
"Yeah, they have been big vocal leaders. They don't get down," Dotson said of what the two have been like since. "They try to point out what they see out there and give us encouragement. They have been encouraging and not been down."
The main difference in this week compared to most, Agbaji said, was the amount of attention being paid to the Jayhawks for something other than basketball.
"But, you know, it is how it is. That went down," Agbaji said of the fight and national reactions. "We've just got to live with that now. We support Dave and Silvio. We've got their backs, so we know that we're playing for them every night."
No one will ever call what happened in that fight a positive. Agbaji said the players have done their best to move on and take a favorable mindset into what's ahead of them.
"It was going to give guys more chances to play more and be more aggressive," Agbaji said, "so I think that's how we saw it."
If the KU players who weren't suspended were worried about their team's public perception in the days leading up to the matchup with Tennessee, playing and finding success on the court had to help some with that.
"Getting the win today definitely was good from the week we had," Agbaji said.
The Jayhawks aren't done competing without McCormack, who will not play at Oklahoma State on Monday, but they're one step closer to some kind of regularity after a week characterized by chaos and stress.
"We needed to play a game," Self reiterated. "And the other thing, I'm tired. I'm tired — at least right now. I'll be fine tomorrow, but the whole thing is, if I am, they probably are, too. So getting out of here with the 'W' was probably just what we needed."