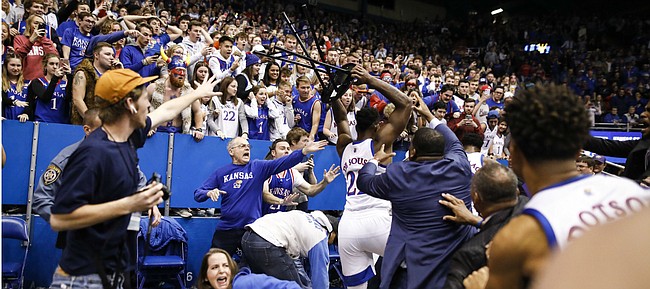 The late-game brawl that tainted the final moments of this week's Sunflower Showdown remained a topic of conversation Friday as members of ESPN's College GameDay arrived at Allen Fieldhouse for the Jayhawks' next game.
Not only did analyst and former head coach Seth Greenberg think two Kansas State players should have received longer suspensions, but he also was surprised KU forward David McCormack's punishment was only two games.
Greenberg thought the Wildcats who came off the bench and were part of the fracas, James Love III and Antonio Gordon, needed to be suspended "at least seven games" and "maybe 10," because they were the second agitators in the event, after KU forward Silvio De Sousa was the first "instigator."
The Big 12 suspended Love for eight games and Gordon for three.
"I'm not sure their punishment was severe enough," Greenberg said, noting he had never seen a basketball altercation escalate to that extent.
"I think that all the agitators should have received a, maybe not as severe as Silvio (12 games), but all maybe a more severe penalty. I think the culpability on the Kansas State kids coming off the bench was egregious. It was unacceptable," Greenberg said.
"That can't happen. Silvio standing over (DaJuan Gordon) after the block, you didn't have to do that. It was a great basketball play," Greenberg added. "But from that point forward the number of agitators that got involved created what ended up in the chaos that resulted there after."
What's more, Greenberg considered McCormack "very fortunate" to only be suspended for two games.
"I know there's inconclusive evidence," Greenberg said. "And I looked at all the video. But from the video that you look at it's hard not to fathom him swinging down at someone. He was swinging downward and there was also some type of foot action."
Greenberg in 2017 coached McCormack as part of a USA Select Team.
"He was as pleasant a young person as I've ever been around," Greenberg said of McCormack.
Greenberg's colleague, analyst Jay Bilas, said the 12-game suspension De Sousa received was in line with what took place, notably because De Sousa picked up a stool, which was an unusual course of action.
"And everyone's very fortunate that no one was hurt for a variety of reasons, it's not just because of that," Bilas went on. "But there was culpability all around. Nobody walked away from that better than they started. But now that that it's over and we've had time to process it, I think there are ways — I made an analogy that if I walk down a dark alley and I get mugged, I think every one of us can can agree that that's unacceptable and the mugger should face justice. But after you step away from that and say, 'OK, well what can we do better to make sure that that doesn't happen again?' You say, 'Well, maybe I shouldn't walk down that dark alley.' That doesn't mean that the mugging was justified, because we say maybe I shouldn't have done that. There are a bunch of things that that led to the fight. And I think a lot of people have learned a lot from from the incident, and hopefully we'll be better for it."
While public perception of the KU men's basketball program has taken a hit over the past year, with some commentators linking the Snoop Dogg performance at Late Night with the fight, Bilas said that shouldn't be the case.
"The fight at the end of the Kansas State game was obviously an ugly incident, and it was something that I think all reasonable people think is unacceptable. And it's not just unacceptable in college basketball it's unacceptable period," Bilas said.
"Outside of the UFC arena, or the Golden Gloves, I don't think anybody would condone fighting in a sporting event. So whether it's the NFL, the NBA, college sports, it doesn't really matter," Bilas said. "But after, I thought the way everybody handled it was reasonable and in line with with happened. And the issue is you know you condemn it, you condemn the action and move on."
ESPN College GameDay from Allen Fieldhouse will air at 10 a.m. Saturday, ahead of the Big 12/SEC Challenge matchup between KU and Tennessee.