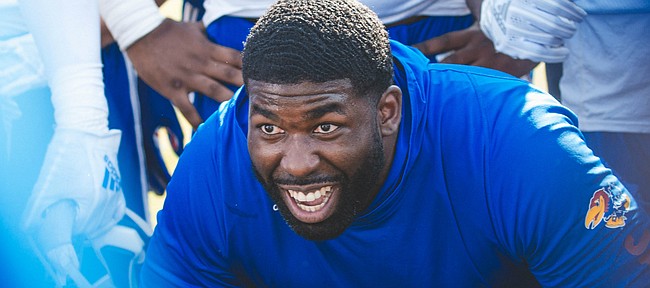 Les Miles filled one of his vacant assistant coaching positions by promoting Chidera Uzo-Diribe, the Kansas football team announced Friday afternoon.
A defensive quality control staffer at KU this past year, Uzo-Diribe, who was a defensive end at Colorado during his playing days, will now be a full-time assistant, coaching the Jayhawks' outside linebackers.
"Chidera is a really bright young coach who has a great work ethic," Miles stated in a KU release. "He has a passion for this game that will resonate with our players and will also be a great asset to him as he hits the road in recruiting. I am very pleased we are able to have him join our on-field coaching staff."
While defensive coordinator D.J. Eliot coached the outside linebackers in 2019, KU has now changed Eliot's title to be more overarching, labeling him the linebackers coach.
Mike Ekeler, KU's inside linebackers coach this past year, left the program recently, creating the staff opening on the defensive side of the ball.
Ekeler is one of three assistants from Miles' first staff at KU to leave this offseason, along with former safeties coach Clint Bowen (now the defensive coordinator at North Texas) and tight ends coach Jeff Hecklinski (expected to be announced as the new offensive coordinator at San Diego State).
Miles hired Jordan Peterson, a former defensive coordinator at New Mexico, to become the new safeties coach.
The vacancy created by Hecklinski's departure has yet to be filled.
After playing four years at Colorado (2010-13 seasons), Uzo-Diribe eventually returned to Boulder, Colo., to work as a defensive graduate assistant, from 2016-18. During his final two years as a grad assistant there, Uzo-Diribe worked with Eliot, who was CU's defensive coordinator at the time.
Uzo-Diribe also participated in the Bill Walsh NFL Diversity Coaching Fellowship program in the summer of 2018 with the San Francisco 49ers. The program was initially created by Walsh as a way to get minority coaches greater exposure for job opportunities while learning about the profession.
As a defensive lineman at Colorado, Uzo-Diribe finished his career with 20 sacks, 31 tackles for loss and 10 forced fumbles, to go with 118 total tackles over the course of four seasons.
He also spent a preseason playing for the New Orleans Saints, in 2015.