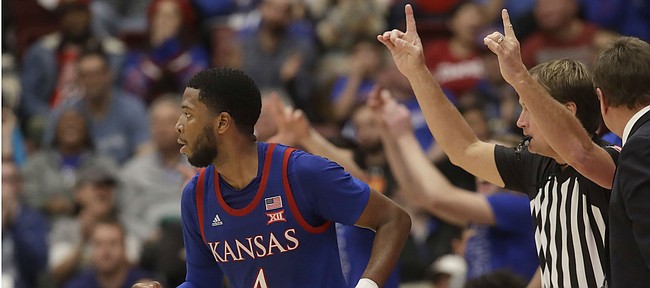 With David McCormack out of the starting lineup for at least the next two games to serve a suspension for his role in Tuesday's brawl with Kansas State, KU coach Bill Self has a decision to make about his fifth starter.
Recent history shows that senior guard Isaiah Moss could be the player Self calls on to fill out the starting five.
Moss, who started 96 games during his three seasons at Iowa, started in Devon Dotson's place during KU's recent win at Oklahoma when Dotson was out with a hip pointer.
Moss responded by dropping 20 points and six 3-pointers. That red-hot potential, along with his previous experience, seems to make him best suited to handle the responsibility of starting for Self and the third-ranked Jayhawks.
Self's other options for KU's next game against Tennessee — 3 p.m. Saturday at Allen Fieldhouse on ESPN — are freshmen Christian Braun and Tristan Enaruna, as the Jayhawks are expected to have just seven scholarship players available for their next two games, with McCormack and Silvio De Sousa (12 games) suspended.
Getting to the point where Self can count on Moss remains a work in progress, but it has nothing to do with Moss' work ethic.
Instead, it's about comfort.
"He's got to figure me out," Self noted recently. "And I don't know if you guys have studied this over time, but usually first-year guys don't figure me out for a while."
Sarcastically, Self added: "And it's all their fault, obviously. … I think I can be difficult on first-year guys coming in. Even though he's a senior, he's still a first-year guy."
Moss, who enters Saturday's game averaging 8 points and two rebounds on 39.5% shooting from 3-point range in 22.5 minutes per game, said the feeling-out process has been a big part of his first few months as a Jayhawk and that he has started to feel more at home with each passing week.
"It's going good," he said. "I feel like I'm growing a lot. … It took me a little bit to get used to. And I'm still learning. But it's been fun, though."
In some ways, the Chicago native said he felt like a freshman all over again when he first arrived in Lawrence last summer. When talking about the getting-to-know-you portion of their time together, Self painted a picture that very much resembled what he goes through with his freshmen.
"When kids first come in, you can't go into a situation and try to be very detailed if you don't know them yet," Self explained. "What really motivates him? Where is he most comfortable, what area? What does he do well? What does he not?
"Sometimes it takes a little bit of time to figure that out and then, after you figure that out, then you can kind of start putting them in more detailed positions. So hopefully I'm going to do a better job with him from this point forward because it's important for us to do that."
That was how Self saw it before Tuesday's incident and the ensuing suspensions. Now that the KU rotation has been temporarily depleted, that type of progress from Moss is critical for Kansas, whether he starts or not.
If there's one thing Self would like to see from Moss the rest of the way it's the kind of aggressive approach he showed at Oklahoma while hunting his shots.
Not only does Self believe that will help KU's scoring, but he also thinks it will go a long way toward making Moss a more dangerous player.
"An average shot for him is better than a good shot for a lot of guys," Self said. "And sometimes I don't think he understands that quite as much. … I don't think he has that assassin's mentality as much."
Self likened Moss to sophomore Ochai Agbaji in that way, noting that both players "drive me crazy," because they are such good teammates and so often defer to others or pass up opportunities for themselves when trying to take over might be the better move.
Moss has a reason for that, and it has nothing to do with being too passive.
"It's just opportunity," he said, explaining the difference between scoring 20 points at OU and just 5 points, on three shots, at Texas four days later. "Texas obviously scouted me and played up against me some more. And I'm not gonna force any bad shots. So the opportunity has to be there."
As KU (15-3 overall, 5-1 Big 12) transitions to life after the brawl, opportunity should be there for Moss. After all, before the fight happened and the suspensions were handed out, Self talked about Moss' importance and said he could see him playing "starter's minutes" the rest of the way.
In order to keep them, Moss plans to lean on the most important thing he's learned about Self thus far.
"You just have to play hard no matter what," Moss said. "He always says, 'Next play.' If you make a mistake or you forget something, just play hard the next play. He doesn't really care if you make mistakes, he just wants you to play hard."