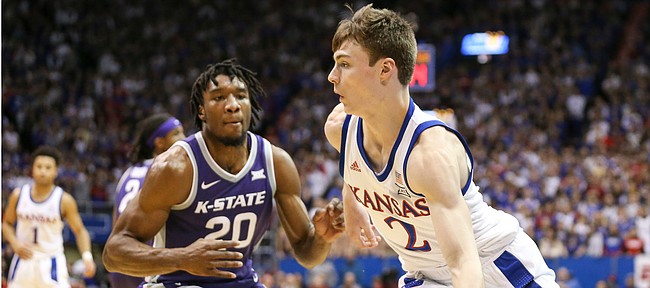 Given the ugly fashion in which the Sunflower Showdown ended earlier this week, Kansas basketball coach Bill Self didn't spend much time in the hours that followed a rivalry game brawl thinking or talking about the actual 40 minutes of basketball that took place inside Allen Fieldhouse on Tuesday night.
When Self had a chance during a Wednesday teleconference to briefly address the Jayhawks' 81-60 win over Kansas State, the preoccupied head coach said his team did "some nice things" on the court, before a fight that eventually led to suspensions for players from both teams "totally negated the two hours prior."
What stood out to Self most, he said during a media teleconference before even watching any footage of the game, was KU's serious spike in bench production.
Photo Gallery
Kansas basketball v. Kansas State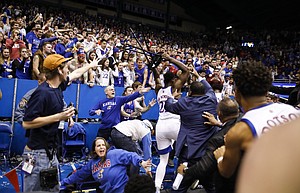 View a gallery of images from Tuesday night's game between the Jayhawks and Wildcats at Allen Fieldhouse.
Three days after KU got just five points out of its reserves in a win at Texas, the substitutes accounted for 46% of the Jayhawks' scoring, with 37 points off the bench.
"I thought that our bench, primarily Christian (Braun), was terrific giving us points and energy off of it," Self said.
Braun, of course, exploded for a career-best 20 points, with the freshman also posting a personal best 6-for-10 mark from 3-point range.
The Jayhawks' 37 bench points were their most since putting up 66 during a November rout of overmatched Monmouth. With a 29-point advantage in bench scoring versus K-State, KU also had its largest margin in that category since the subs outscored Monmouth's backups by 33.
It was a far cry from the Texas game, when Self thought so little of his reserves' play that the only one who got minutes in the second half was Isaiah Moss.
A senior guard, Moss added seven points to KU's bench output against K-State, on 1-for-4 shooting from 3-point range and a 3-for-7 night overall.
Freshman wing Tristan Enaruna hadn't put up more than four points in a game since KU trounced Monmouth, but produced six points in 12 minutes against the Wildcats (8-10 overall, 1-5 Big 12).
The Jayhawks (15-3, 5-1) will likely need more steady production out of Bruan, Moss and Enaruna in the weeks ahead, now that starting big man David McCormack (suspended two games for his involvement in Tuesday's brawl) and backup Silvio De Sousa (suspended 12 games) will be out of the rotation for varying lengths of time.
"It's always nice to win a rivalry game," Self said Wednesday, during his most recent session with the media. "But with that being said, nobody in our office is talking about that at this particular moment. We're just talking about what transpired there late."