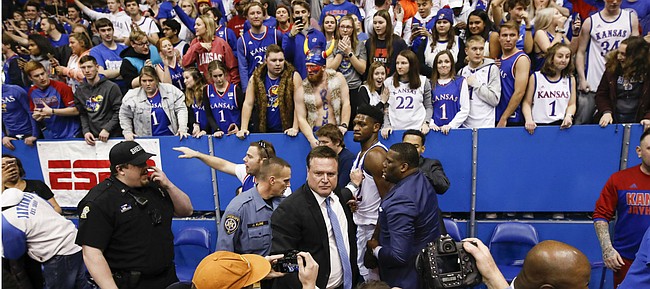 After Tuesday night's basketball brawl, the University of Kansas student body president expressed concern over the pattern of "violence" surrounding the program and the Board of Regents chair suggested he would be discussing the matter with university CEOs.
KU's chancellor, however, said nothing about the incident after the Journal-World asked his office for a statement on Wednesday.

When asked about the various behavioral issues reported within the KU men's basketball program in recent years, KU Student Body President Tiara Floyd said, "I definitely see a pattern of disciplinary problems happening."
The conversation was kickstarted by Tuesday night's events.
In the final seconds of the Sunflower Showdown, with KU up by 22, Kansas State University guard DaJuan Gordon stole the ball from KU big man Silvio De Sousa. De Sousa raced down the court and swatted the layup attempt, then stood over his opponent. K-State players then ran onto the court from the bench, and a major fight took place in which players from both teams appeared to throw punches and De Sousa raised a stool over his head.
Wednesday morning, men's basketball coach Bill Self announced De Sousa had been suspended from the team indefinitely. The Big 12 announced suspensions Wednesday evening for four players involved in the brawl. De Sousa has been suspended for 12 games and KU starter David McCormack for two. K-State players James Love III and Antonio Gordon were suspended for eight and three games, respectively.
The Tuesday night brawl was not the first instance in recent years in which University of Kansas men's basketball players have come under fire for undisciplined behavior.
In December of 2016, men's basketball player Josh Jackson was accused of arguing with KU women's basketball player McKenzie Calvert outside a Lawrence bar. During that argument, he reportedly hit and kicked Calvert's car while "yelling for her to get out of the car and that he would beat" her, the Journal-World previously reported.
That same month, a 16-year-old was reportedly raped in McCarthy Hall, which houses the men's basketball team. All five witnesses listed in the rape report were 2016-17 KU men's basketball team members, the Journal-World reported at the time. Charges were never filed, however, because of insufficient evidence.
In January of 2017, men's basketball player Carlton Bragg Jr. was suspended from the basketball team for violating team rules. Months earlier, Bragg was the suspect in a battery report in which a man closed a door on a woman's arm, causing bruising.
Also in January of 2017, the Kansas City Star reported that a KU investigation found it likely that men's basketball player Lagerald Vick punched a female student multiple times in the arm and kicked her in the face in late 2015.
This academic year, the men's basketball program is undergoing an investigation by the NCAA and the athletic department received national attention this past fall after Snoop Dogg's risque Late Night in the Phog performance — which included pole dancers and money guns.
Floyd called yesterday's brawl the "perfect opportunity" for the team and athletic department to take increased steps to "talk to the team ... maybe look into who they are recruiting."
She said she's noticed a pattern of "either violence or anger both on and off the court," and she suggested the potential need for an anger management counselor.
Though Floyd felt that K-State instigated the brawl and didn't believe De Sousa should be suspended, she said she understood that some type of public disciplinary action must be taken and that the whole brawl was "unnecessary."
She called it an example of "young people, especially young men, just making really uninformed decisions" and "acting on impulse."
"We are all young people on college campuses. We are all under a lot of stress," Floyd said.
But, she asked, is anything being done when these men show pronounced instances of anger?
KU Chancellor Douglas Girod did not offer a statement in regard to the incident on Tuesday night, nor did he answer whether the incident might indicate a recurring discipline problem within the men's basketball program. It is unclear, however, if Girod ever received the questions.
When asked for a statement from the chancellor, KU spokesman Joe Monaco said he had "not seen the Chancellor today."
Shane Bangerter, chair of the Board of Regents, did issue a statement in regard to the brawl, writing in an email that he was "disappointed" by the incident at the end of the game.
"The Regents expect athletic programs at state universities to represent their respective institutions in a positive manner, and we will work with the CEOs to ensure that happens," he wrote.
Bangerter did not respond to a question asking whether the combination of disciplinary issues from recent years was forming a black eye on the men's basketball program.
Come February, KU will once more be in the public eye. KU has until Feb. 19 to respond to an NCAA Notice of Allegations that it received on Sept. 23.
The NCAA's investigation of KU relates to allegations against the KU men's basketball and football programs. The football allegations include allowing an extra coach to work during practice under former coach David Beaty. In basketball, allegations center on three former Adidas representatives who have been convicted of federal fraud charges related to a scheme to pay the families of recruits to attend certain schools, including KU.
The NCAA contends former Adidas consultant T.J. Gassnola was acting as a booster of KU when he paid $90,000 to the mother of former KU team member Billy Preston and $2,500 to the guardian of current player De Sousa.
KU officials have said the university would "fiercely dispute" the charges.
Floyd, the student body president, said KU administrators are handling "a lot" this year.
On Tuesday night, KU athletic director Jeff Long said of the brawl, "The conduct of a few of our student-athletes at the conclusion of tonight's game vs. Kansas State was simply unacceptable and not reflective of who we are."
Floyd said, "We just kind of recovered from Snoop Dogg and to now have (the brawl) ... It's just kind of a lot for Jeff Long to have to keep putting out statements."