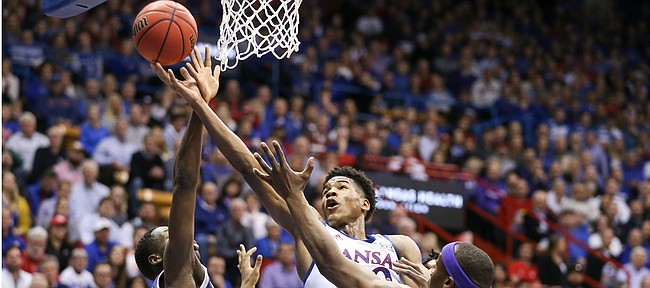 Tuesday night, during 31 minutes of third-ranked Kansas' 81-60 victory over Kansas State at Allen Fieldhouse, starting guard Ochai Agbaji provided KU coach Bill Self with something for which he had been searching.
"The bottom line is, get an offensive rebound," Self said of Agbaji after last Saturday's win at Texas. "He's got to become a better offensive rebounder."
The sophomore from Kansas City, Mo., did just that in the Jayhawks' return home on Tuesday night. And all four of his offensive boards had a major impact on the game.
The first came early through the first half, when Agbaji followed his own miss of a free-throw-line jumper and ripped it off the rim for the easy put-back.
The second came with a little more flash and flair but came from the same concept of hustle and heart.
Photo Gallery
Kansas basketball v. Kansas State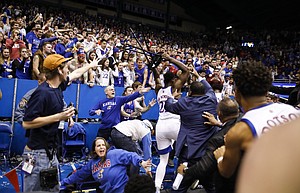 View a gallery of images from Tuesday night's game between the Jayhawks and Wildcats at Allen Fieldhouse.
After one of his two first-half steals, KU point guard Devon Dotson drove hard to the rim but missed his off-balanced layup over a K-State defender. Hustling down the court the whole way, Agbaji was there to clean up the miss, grabbing the ball out of the air and finishing a two-handed dunk before landing to push KU's lead to 23-9 with 10:57 to play in the half.
Not satisfied with the two plays in the first half, Agbaji opened the second half by chasing down a missed shot and flipping a quick pass to Christian Braun, who buried his fourth 3-pointer of the night on the opening possession of the half.
Agbaji's final offensive rebound came in traffic midway through the second half when he went up to catch the ball at its highest point and was hit in the air, falling to the ground with possession of the ball and whistles blowing.
For the game, the KU sophomore finished with 7 rebounds and 6 points on 3-of-7 shooting.
"We know he's a good player," Self said of Agbaji after the Texas win. "He'll continue to get better. He's still young and he's just going through a little funk right now."
Dotson strong again
In his second game back from a hip pointer injury that kept him out of KU's road win over Oklahoma last week, sophomore point guard Devon Dotson played 27 minutes and looked as explosive as ever, swiping three steals and scoring 18 points on 6-of-12 shooting.
Dotson fell to the floor a few times during Tuesday's win and came up wincing a bit after each fall, but he did not appear to be overly bothered by the injury to his left hip.
After the win over Texas last weekend, in which Dotson played 39 minutes, Self said he did not even ask how Dotson felt because his play on the floor told him everything he needed to know.
Home of the Chiefs?
It has come and gone throughout the years, at varying volume levels and with inconsistent enthusiasm.
But the roar of the Allen Fieldhouse crowd at the end of Tuesday's National Anthem, when the fans in the stands substituted "Chiefs" for "brave" in the song's final line, was the loudest it has been in years.
It sounded a lot like Kansas City coach Andy Reid's unofficial tag line after his team's victories that bellows, "How 'bout those Chiiiiiieeeeffffs."
Later in the first half, and just for a brief minute, the KU pep band played the sounds of Kansas City's tomahawk chop chant and hundreds of KU fans joined in the fun.
This and that...
KU now has won 14 in a row over Kansas State in Allen Fieldhouse, a stretch that dates back to 2007... Kansas leads the all-time series with its Sunflower State rival, 198-94, including a 91-35 mark in Lawrence and a 50-18 edge inside Allen Fieldhouse ... KU is now 8-1 at home this season, including a 7-1 mark at Allen Fieldhouse ... The Jayhawks move to 5-1 or better in Big 12 play for the 14th consecutive season and 16th time in Self's 17 seasons at KU ... ESPN's College GameDay is scheduled to come to KU this weekend for the Jayhawks' home clash with Tennessee in the Big 12/SEC Challenge.