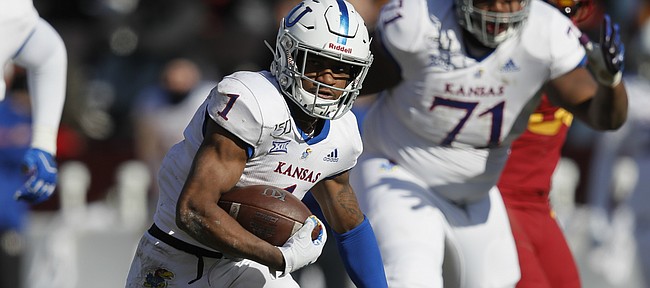 The large-scale expectations for Pooka Williams Jr.'s junior year at the University of Kansas aren't emanating exclusively from Lawrence and the football program's fan base.
Far ahead of the 2020 season, Williams already is gaining recognition as one of college football's best running backs.
Pro Football Focus recently ranked the top 25 running backs returning to college football and slotted Williams, KU's heralded 5-foot-10 junior from Louisiana, at No. 7.
In the post for PFF.com, Anthony Treash detailed some of what makes Williams stand out.
"Ever since his performance against Oklahoma in Week 12 of 2018, where he picked up nine gains of 10-plus yards on 15 carries, Williams has been making his name known as one of top young running backs in college football," Treash wrote for PFF.
Although, the post noted, Williams' rate of explosive runs dipped in 2019, PFF rated KU's run-blocking as 95th-best among FBS teams, and Williams was No. 3 in the nation with his 0.37 broken tackles per rushing attempt.
PFF's list was published before Clemson running back Travis Etienne surprised some observers by announcing he'll return for his senior season with the Tigers, so Etienne wasn't included. The six running backs PFF ranked ahead of Williams on its list were Oklahoma's Kennedy Brooks, Memphis' Kenneth Gainwell, Tulane's Amare Jones, Buffalo's Jaret Patterson, Oklahoma State's Chuba Hubbard and Alabama's Najee Harris.
Meanwhile, Brad Crawford of 247Sports published this week a list of top running backs that also included Williams.
Per 247Sports, its list of the top 10 returning running backs was based on expected production and career impact up to this point. Williams' name appeared first on the countdown, at No. 10.
"One of the nation's most explosive players, Williams is a threat to score any time he touches the football and has showed as much for the talent-strapped Jayhawks," Crawford wrote in the post.
Clemson's Etienne ranked No. 1 on 247Sports' countdown of top running backs.
Williams was an All-Big 12 running back in each of his first two seasons. This past year, he rushed for 1,061 yards and three touchdowns.
Franks picks Arkansas
Williams won't have a former Florida starting quarterback handing the ball to him next season.
Feleipe Franks, who visited KU in December, announced Monday night his decision to join Arkansas as a graduate transfer.
Franks played in 28 games for the Gators over the course of the past three seasons, before dislocating his ankle this past September. At Florida, Franks completed 367 of 622 passes, for 4,593 yards, with 38 touchdowns and 17 interceptions.
KU offensive coordinator and quarterbacks coach Brent Dearmon said during his most recent interview session in December that he viewed both Thomas MacVittie and Miles Kendrick as potential starting quarterbacks.
Some new Jayhawks on campus
Through its social media accounts, the KU football program earlier this week highlighted move-in day for some freshmen who arrived in Lawrence ahead of the spring semester.
Among the new Jayhawks appearing in photos and videos were:
• Amauri Pesek-Hickson, RB
• Lawrence Arnold, WR
• Caleb Taylor, DE
• Garrett Jones, OL
• Karon Prunty, CB
Kamara headed to Reese's Senior Bowl
Former KU outside linebacker Azur Kamara was going to get a chance to showcase his skills in front of some pro football scouts this weekend at the Hula Bowl, in Hawaii, but a late invite to the more prestigious Reese's Senior Bowl will take Kamara to Mobile, Ala., instead.
The Senior Bowl announced Tuesday that Kamara, a 6-4, 235-pound KU senior in 2019, would be one of the many former college players participating. Kamara will join fellow Jayhawk Hakeem Adeniji at the showcase.
Kamara started all 12 games for KU this past season, compiling 51 total tackles, six tackles for loss and a team-high 3.5 sacks.
The 2020 Reese's Senior Bowl is scheduled for a 1:30 p.m. kickoff on Saturday (NFL Network).
Butcher in transfer portal
After one season with KU football, in-state walk-on Jerek Butcher might never actually play in a game for the Jayhawks.
According to 247Sports, the linebacker has entered his name in the NCAA's transfer portal.
A freshman at KU this past season, Butcher only practiced with the team. Listed at 6-0 and 225 pounds, Butcher was named a Class 4A all-state linebacker as a high school senior in Pittsburg.