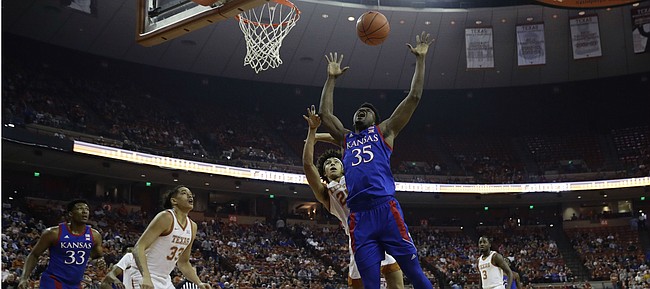 Behind three double-digit scorers, No. 6 Kansas did enough to come away with a 66-57 win over Texas Saturday afternoon in the Erwin Center.
Devon Dotson, Udoka Azubuike and Marcus Garrett all made enough plays down the stretch to help the Jayhawks (14-3, 4-1 Big 12) earn their second-straight Big 12 road win. Dotson, who returned to action after being sidelined for one game with a hip injury, scored a team-high 21 points on 6-of-16 shooting.
Dotson's triple at the 2:50 mark gave KU all the breathing room it would need to hold off Texas (12-5, 2-3 Big 12) on the road. He added four free throws in the final minute to effectively ice the game. Azubuike recorded multiple dunks on his way to a 17-point effort in the win. Garrett made several strong drives and finished with 13 points.
The Longhorns, who led by as many as eight in the loss, were paced by a 20-point showing from junior forward Jericho Sims. Junior guard Matt Coleman III joined him in double figures with 10 points in the loss.
Here's a quick look back at some of the action:
• The game turned when: Trailing 31-26 at the intermission, Kansas elected to switch things up to start the second half.
The Jayhawks turned to their four-guard lineup to begin the second half, which proved to be the right decision. KU still focused on getting points inside, but the spacing created angles for those passes to the post.
Starting center Udoka Azubuike took advantage with a couple quick powerful dunks in the first few minutes. Kansas eventually reclaimed the lead after the early momentum in the second half.
• Offensive highlight: In a game that featured plenty of Azubuike slams, one early in the game was clearly the best.
In fact, it might have been one of the better dunks of his career when factoring how tough it was to catch the lob. Early in the game, Azubuike caught a high lob from junior Marcus Garrett and finished with an emphatic dunk.
No words could do this play justice, so the video is worth watching multiple times.
• Key stat: There was some conversation about Azubuike's free throw shooting after the win over Oklahoma earlier this week.
Azubuike went 2-for-2 in the win over the Sooners, and had made six of his previous seven attempts from the charity stripe. He was actually 11-of-17 through the first four games of Big 12 play.
But Azubuike was sent to the line often against Texas, and didn't have quite that level of success. He finished with a 3-for-9 clip from the line on the day.
• Up next: Kansas will play host to Kansas State on Tuesday.