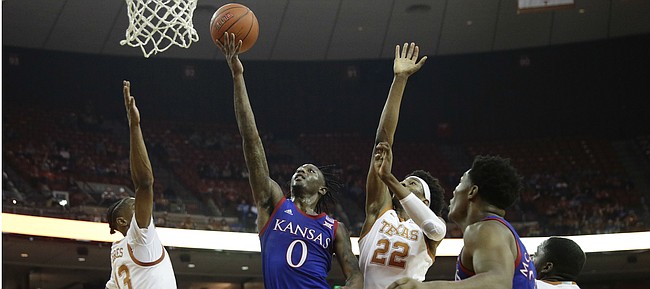 Austin, Texas — The sound was as loud as the boom that "Smokey the Cannon" produces at Texas football games just down the road.
Only Saturday, it came after Kansas junior Marcus Garrett hit the ground following a drive to the rim midway through the second half of KU's 66-57 win over Texas at Frank Erwin Center.
Laid out flat following the contact that sent him to the floor, Garrett stayed down for a few minutes before sitting up, and then sat there another minute or two before regaining his feet.
From there, Garrett went straight to the KU locker room, where he stayed for fewer than five minutes before returning to the court.
After jogging from the locker room back to the bench, Garrett checked into the KU lineup after missing just 1:40 of actual game time.
KU coach Bill Self said after the game that he did not know exactly what the team's medical personnel checked Garrett for in the locker room. But Self was certain of one thing.
"That was a remarkable recovery," he said. "I told our guys, 'Hey, we're going to have to bow our neck; we won't have Marcus back for the next three minutes or four minutes.' I assume he just hit his back or whatever. But he bounced back and said he was fine. I think it scared him more than anything else."
Like Self, Garrett's teammates also were concerned about Garrett's well-being.
"I was worried," sophomore Devon Dotson said. "That's a big part of our team, and I was just hoping he was OK. You never want to see those type of injuries, and I'm glad he's OK. It shows toughness that he got back up."
Asked to evaluate Garrett's play both before and after the hard fall, Dotson said the junior guard was "great."
"He got some key rebounds, made some key plays and kind of does it all out there," Dotson said.
Garrett, who already has been battling through two bad ankles, finished with 13 points, seven rebounds and seven assists in 37 minutes.
Hello, Hudy
Saturday's game marked a reunion of sorts for the Kansas basketball team.
Andrea Hudy, former longtime KU strength coach who is now in the same role at Texas, made the rounds and passed out hellos, hugs and bright smiles to several people associated with KU and the basketball program prior to tipoff.
Self said he never got the chance, before or after the game, to catch up with Hudy. But the two will get another chance on Feb. 3, when Hudy and the Longhorns come to Lawrence for her first game back in Allen Fieldhouse.
Azubuike honored again
Kansas center Udoka Azubuike has been named one of 30 men's basketball candidates for the 2019-20 Senior CLASS Award.
To be eligible for the award, a student-athlete must be classified as an NCAA Division I senior and have notable achievements in four areas of excellence: community, classroom, character and competition.
A senior from Delta, Nigeria, Azubuike is a liberal arts and sciences major who will graduate from Kansas in May.
He is a two-time Academic All-Big 12 selection, earning second-team honors during his sophomore year and first-team recognition last season.
Azubuike, who is shooting 77.6% from the floor this season and is on track to shatter KU's career field goal percentage record, currently holds averages of 13.1 points and 9.2 rebounds in 27.6 minutes per game.
College GameDay coming
ESPN's College GameDay announced Saturday that it would be in Lawrence next weekend for the Jayhawks' home clash with Tennessee.
The Jayhawks and Volunteers will tip off from Allen Fieldhouse at 3 p.m. and will be the featured game in the annual Big 12/SEC Challenge.
Dating back to 2005, KU is 14-5 all-time with GameDay in the building. And Saturday's game is expected to be the 300th consecutive sellout at Allen Fieldhouse.
"We are excited to welcome ESPN College GameDay back to Lawrence," KU Athletic Director Jeff Long said in a statement. "This sellout streak is one our fans take great pride in and are committed to continuing for a long time to come. We have the greatest fans and most loyal supporters in all of sports and can't wait to show the nation how we will pack Allen Fieldhouse two times next Saturday."
Doors to Allen Fieldhouse will open at 8:30 a.m. Saturday for fans wanting to attend ESPN's one-hour morning show, which will air at 10 a.m. The event is free to the public, and tickets are not required.
This and that...
Former KU forward Dedric Lawson, now a member of the NBA G League's Austin Spurs, was in attendance at Saturday's game... KU now leads the all-time series with Texas, 34-9, including a 11-7 mark at Frank Erwin Center... Saturday's win improved KU's conference record to 4-1 or better for the 13th consecutive season and 16th time in Self's 17 seasons at KU... The Jayhawks are now 4-1 in true road games this season and 8-2 in games played away from Allen Fieldhouse.