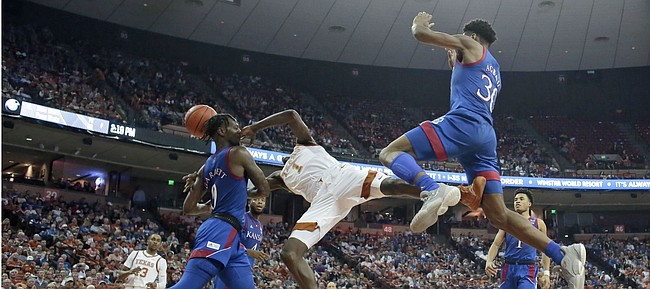 Austin, Texas — Ugly is in the eye of the beholder.
As far as Kansas basketball coach Bill Self was concerned, what he gazed upon Saturday at Frank Erwin Center was magnificent in all its grime.
"This is not ugly," Self said after his Jayhawks' 66-57 victory at Texas. "It's beautiful."
KU's offense certainly failed to please the senses during much of the afternoon road win. But it wasn't his team's play on that end of the floor that the coach found so alluring.
No. 6 Kansas (14-3 overall, 4-1 Big 12) won this game, as it has so many this season, with its defense; not its offense. Though Self admitted there may have been some luck involved, UT went 1 for 6 from the floor after tying the game at 54, only scoring 3 points in the game's final 4:49.
"I think in our case it's more getting stops than it is scoring," Self said. "I don't think we scored the ball great down the stretch. But you make free throws, you don't turn it over and you get stops."
This team can win ugly, which means it can win road games, unlike last year's KU roster. In their five true road games so far this season, the Jayhawks have held every opponent under 60 points.
They can get away with poor offensive stretches, too, because they have two players who have taken KU's defense to another level in Marcus Garrett and Udoka Azubuike.
"As far as national defenders I think we've got two guys that are about as good as anybody individually at defending their spot," Self said of the two veterans.
The effort Garrett and Azubuike put into not only winning their individual assignments but also playing the type of help and recovery team defense that drives opponents crazy make it a whole lot easier to pick up wins that aren't the most pleasant for viewers.
"The uglier the game, the more it benefits, a lot of times, the better grinder, defensive team," Self said. "And this game obviously had possessions where both teams guarded pretty well."
When Texas (12-5, 2-3) played lineups with four 3-point shooters, KU in the first half, Self pointed out, made some mistakes and over-helped off some of UT's best catch-and-shoot players. But that changed in the second half, and UT went 1 for 9 on 3-pointers.
It was KU's 3-point shooting, or lack thereof, that contributed to the disagreeable look to the offense. The Jayhawks were only 2 for 10 from behind the arc.
But the lack of perimeter offense didn't kill the Jayhawks on this day. What does that say about this team?
Devon Dotson thought it proved KU's got a tough bunch that defends.
"If shots aren't falling, you've still got to find a way to rebound and defend," Dotson said after UT shot 40.4% from the floor and went 6 for 20 from 3-point range. "I feel like the guys did a great job with that. When things aren't going our way we've just got to find a way to win."
There's real value in winning this way, too.
"I feel like each road game you've got to tough it out," Dotson said. "You've just got to find a way to win. And that's what I think the guys did. My teammates did a great job of buckling down down the stretch and just finding a way to win."
Self usually loves watching his team win when it gets the job done defensively. And the more KU adds to its growing list of victories in low-scoring affairs, it should benefit the Jayhawks down the line.
Postseason games tend to be low-scoring, with fewer possessions and fewer points. So maybe KU will feel comfortable when those games come in March.
"I think the way our league is will benefit all the teams in our league going into the postseason," Self predicted. "And we'll be more used to playing in those type of games. But the reality is, teams that play at the highest of stakes, they can still score. Virginia was still very efficient offensively last year, even though they were a great defensive team."
And that's why Self didn't leave this particular road win totally enthused.
Who needs 3-pointers when you can win with defense? Well, it turns out KU does.

"It's going to catch up to us," Self said after KU shot 2 for 10 from deep. "We were fortunate today. We've got to be a team that can knock down (3-pointers) — we're not going to shoot as many as most because we're trying to get the ball inside more than most. But if you shoot 18 3's, we've got to be a team that can make six or seven. It puts too much pressure on your defense to get stops when you can't stretch the floor."
There's nothing wrong with winning ugly. But a more assertive and confident approach from 3-point range sure wouldn't hurt.
Self wants this team to reach its ceiling before long. The Jayhawks can get there with their ability to muddy up opponents' offenses, paired with some timely 3-point shooting to complement how well they score the ball inside.