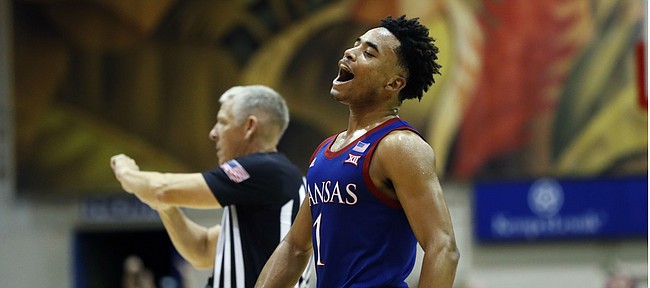 Sophomore point guard Devon Dotson's status for Saturday's 1 p.m. game at Texas remains uncertain, but Kansas coach Bill Self is not planning to overhaul KU's approach regardless of the outcome.
"We're not going to change our strategy a lot whether he does or does not (play)," Self said. "Sure I'd like to know sometime today and then if not today, tomorrow morning, and if not tomorrow morning, tomorrow afternoon. I mean sure, because of the need to prepare your team on how to play. But if he's day-to-day, I'm not going to change how we play totally for this one game, knowing we're going to go right back to the way it is (when Dotson returns)."
Sidelined with a hip pointer that he suffered in last weekend's loss to Baylor, Dotson tried to participate in KU's shoot-around at Oklahoma on Tuesday but could not go because of the pain in his left hip.
Self reiterated Thursday that Dotson's return was largely based on how well he responds to treatment and how much pain he can tolerate. On Wednesday night, on his weekly "Hawk Talk" radio show, Self said, "it'll be his call when he comes back."
KU junior Marcus Garrett, who filled in for Dotson at the point guard spot during Tuesday's win at Oklahoma, said Thursday that his hunch was that Dotson would play this weekend.
KU did not practice on Wednesday and had not yet practiced on Thursday when Self spoke with the media. But even with that limited information, Self said he was confident that the treatment Dotson received was helping.
"I know he's making progress," Self said. "We would enjoy having him with us, regardless of when he lets us know, but sooner's definitely better than later."
Asked if he, or other coaches, might consider holding Dotson out as an extra precaution until he was definitely 100%, Self said he understood that line of thinking.
"Man, if we can just get him to next week, there's a much better chance it'll be 95% so I think that you could do that (in certain situations)," Self explained. "But I don't think this injury is one of those that would require you do that."
Self said earlier this week that KU's medical staff told him that Dotson would be sore for a while and that any contact in the left hip area would make the pain worse. He also noted that he was told that playing would not create any additional risk of making the injury worse.
"I don't believe that's the case," Self said.
If Dotson can play, he almost certainly will return to his regular spot in KU's starting lineup. If he can't, senior Isaiah Moss likely will get a second consecutive start.
In 38 minutes against OU on Tuesday, Moss scored 20 points and tied a career-high with six 3-pointers, helping offset the loss of Dotson's Big 12-leading 18 points per game. Self believes there could be more where that came from.
"I think his role is going to be expanded or exaggerated some moving forward than what it has been," Self said Thursday of Moss, who is averaging 22.5 minutes per game this season. "And not just because he made shots against OU but because he's a guy that keep teams honest just because he can shoot the basketball so well.
"I can't say his minutes are going to go up. I'm not sure that anybody's minutes will stay the same once you work Dot back in because he's going to take 30-35 (minutes per game) regardless. But I see (Moss) playing starter's minutes the rest of the way."