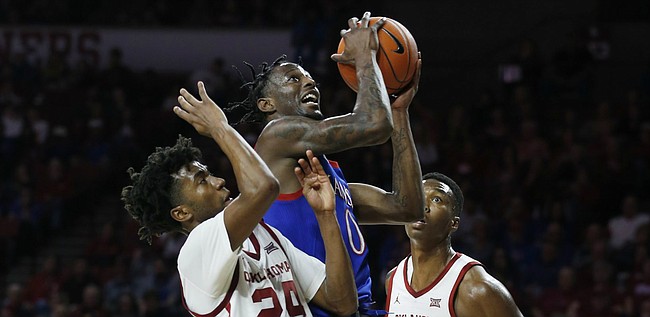 Norman, Okla. — Kansas coach Bill Self loves basketball players who love a challenge.
That's what made Tuesday's 66-52 win at Oklahoma so special for Self.
Playing without starting point guard Devon Dotson, who missed the game after suffering a hip pointer last weekend, Self watched junior guard Marcus Garrett slide effortlessly into the role of team leader both before and during the road victory.
In 38 minutes, on two bad ankles, Garrett delivered 15 points, five rebounds and five assists while turning it over just once and handling the ball the majority of the time.
"He's tough as nails," Self said of Garrett before moving his praise into superhero territory.
Document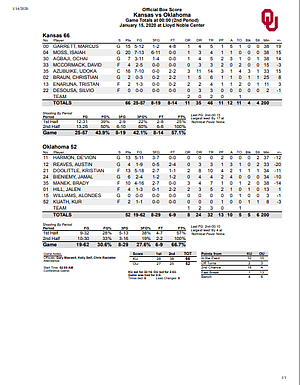 "I think Marcus hated it, and at the same time loved it," Self said of KU playing without Dotson on Tuesday. "Because to win, we definitely need Dot. But it was a time that he could show that he can be our point guard. And there's no doubt to who our point guard will be next year. … I think that was big for him to show that he could be Batman."
Early on, it was Garrett's passing ability that stood out. On a night when senior guard Isaiah Moss knocked in 6 of the 11 3-point shots he attempted, it was Garrett who found him for his first two makes early in the first half.
Garrett said that was by design, as he knew that the sixth-ranked Jayhawks (13-3 overall, 3-1 Big 12) would need an offensive lift to replace the 18 points per game that Dotson gives the team.
"Of course," Garrett said. "I was telling him, the way they play defense, sometimes they can over help and he's wide open. I was just telling him, 'Shoot it every time that you get it.' I feel like every time he shoots the ball it's going in. And when they do go in, I'm not surprised at all."
Fueled by Garrett's confidence and guidance and fired up by the opportunity, Moss was the most aggressive he has been in a Kansas uniform, tying a career high with the six 3-point makes and finishing with 20 points to help offset not having Dotson.
"Playing without Dot didn't hurt us as much as what you think it would," Self said. "Because I thought Marcus was really good at the point."
Beyond his final stat line, the path Garrett took to get there was pretty average. He shot 5 of 12 from the floor, made just 4 of 8 from the free-throw line and hit 1 of 2 from 3-point range, the make putting Kansas back up by 7 (52-45 with 7:37 to play) after OU's Kristian Doolittle had hit a 3-pointer of his own to pull the Sooners (11-5, 2-2) within 4.
But neither Self nor Garrett cared about anything other than the tally in the win column after the game.
"He's a stud," Self said of Garrett. "You know, say what you want to; he doesn't make his free throws, he doesn't shoot the ball at a great percentage, you know, all that stuff. All he does is just win and give you a chance to win.
"The 3 he made in the corner and how he didn't turn it over and how he controlled the game, you know, he's a good player. He's kind of a jack-of-all-trades type kid, but I thought he and Isaiah and (Udoka Azubuike) played at a pretty high level tonight."
Azubuike, who finished with 14 rebounds, reaching double digits in that department for the fifth time in the last six games, added 16 points to his final stat line and played the kind of suffocating defense, both in the paint and on the perimeter, that Self loves from any of his players, let alone one who stands 7 feet tall.
As for Garrett's assessment of his own game on Tuesday night, the junior guard was most pleased with the win and then about his ability to value each possession without Dotson on the floor to help him.
"I tried not to turn the ball over," Garrett said. "That was my main focus ... to take care of the ball."
Now that he's done that, he thinks what he proved Tuesday can help Kansas both while Dotson is recovering and when the two are at full strength.
"(I proved) that I can run the team, basically," Garrett said. "I can do what he does when he's not in and I think we can use that going forward,"
The only downside to Garrett's night came when he tweaked his already-injured left ankle in the final few minutes. That was the one he hurt at Iowa State, but Garrett was not overly concerned about the injury, or having to play on it, after KU's latest win.
"I'll get back and do some more treatment," he said.
As for how close he was to being 100% healthy in this one, Garrett said he felt that way before the game, "but (not) once the game started."
As for how he managed it, that was simple.
"Knowing that's something that I have to do when we're without our point guard, I had the mindset going in that I was going to have to play a lot of minutes," he said.
The more you heard Garrett's teammates talk about his performance at OU after the win, the more fitting Self's Batman analogy seemed.
"It was really big," KU freshman Christian Braun said of Garrett's steady game. "Thirty-eight minutes by probably the best defensive player on the court, and he had the ball in his hands all the time on the offensive end, there's not many players in the country that can do that. It takes a lot. Especially to do that on one leg, or half a leg since both ankles are injured. He did a really good job."