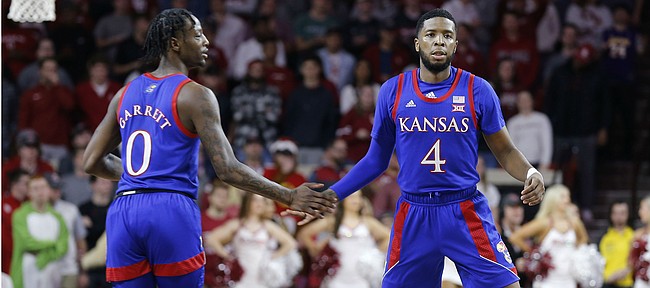 Norman, Okla. — Road wins often come with an element of grit, but Tuesday's 66-52 win by No. 6 Kansas over Oklahoma at Lloyd Noble Center was particularly gritty.
Playing without sophomore point guard Devon Dotson, who was unable to participate in Tuesday's shoot-around and did not play because of the hip pointer he suffered last weekend, Kansas fielded a lineup of players who were more aggressive in everything they did against the Sooners.
No one demonstrated that better than senior guard Isaiah Moss, who finished with 20 points on 7-of-13 shooting, tying a career-high with six 3-point makes.
Moss also hit six triples in a game while at Iowa against Minnesota back in January 2019. His previous career best at Kansas came when he hit five of six 3-pointers in a blowout win over Monmouth earlier this season.
Without Dotson, the graduate transfer stepped into the starting lineup for the Jayhawks and immediately made his impact felt.
"I knew that I was going to have to step up," Moss said after the victory. "Devon's obviously a big part of our offense, and defense, so I knew I had to step up. But it wasn't just me. All of our guys had to step up without Devon."
Moss, who made 96 starts during his three seasons at Iowa, scored 5 points in the game's first 3 minutes. Three of them came on a wide-open triple after Marcus Garrett grabbed his own miss in close. And the other 2 came on a drive and floater down the lane.
"That's what we want him to do is be aggressive," KU coach Bill Self said after KU's loss to Baylor. "That's what he's in there for, to look to score."
The early buckets from Moss gave KU (13-3 overall, 3-1 Big 12) an early 9-3 lead and helped convince the Jayhawks that their offense could run — and work — without Dotson, who sat on the bench in blue warm-up pants and a gray sweatshirt throughout the game.
Document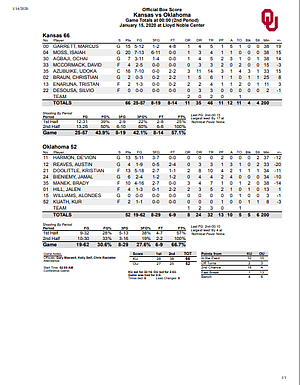 Neither team found much of a rhythm offensively in this one, with OU shooting just 28.1% from the floor in the first half (9-of-32) and Kansas shooting only slightly better, at 38.7%, but also hitting just 2-of-8 from the free-throw line.
That led to a grisly first half during which rebounds and defense accounted for most of the highlights both ways.
Moss, Garrett and senior center Udoka Azubuike scored 8 points apiece for the Jayhawks in the first half. Twenty of KU's 28 first-half points came in the paint and, perhaps more importantly, the Jayhawks turned it over just five times in the opening 20 minutes.
"Isaiah, you shoot it; Marcus, you pass it; Dok, you catch it," Self explained. "That was basically the game plan."
After a back-and-forth first half, in which both teams delivered runs and held leads — none bigger than KU's 6-point lead early — Moss opened the second half with a similar surge, knocking in two more triples and finding Azubuike for an easy dunk with a flashy one-handed pass.
The assist put the Jayhawks up 42-36 with 14:19 to play and forced the Sooners (11-5, 2-2) to call timeout.
After the Sooners cut the Kansas lead to 2, at 42-40, Azubuike was fouled on a tough take to the rim and nearly got the opportunity for a 3-point play. Instead, the shot missed and he stepped to the free-throw line.
Staring down the very same basket where his string of missed free throws helped cost KU the game two years earlier, Azubuike drained both charity shots to put Kansas back up 4 with 11:09 to play.
After the win, Azubuike shrugged off the moment, chalking it up to hard work paying off.
"It's big for me," he said. "I've been working on my free throws and my game and stuff and I don't let that bother me at all. If you're going to foul me, foul me."
Freshman wing Tristan Enaruna (2 points and four rebounds in 11 minutes) followed that up with a tough put-back of his own miss and KU regained its largest lead of the night, 46-40, with 9:57 remaining.
A couple of possessions later, Moss, without hesitation, stepped into another 3-pointer and Agbaji flipped an alley-oop to Azubuike to put the Jayhawks up by 9 with 7 minutes left.
Azubuike, who logged 33 grind-it-out minutes, finished with 16 points and 14 rebounds, marking the fifth time in the last six games that he has reached double figures in rebounds.
Garrett, who handled the primary point guard duties in Dotson's absence, finished with 15 points, five rebounds and five assists against just one turnover in 38 minutes.
Tuesday marked the second straight strong first half for Moss, who was one of the only players to find success on offense in KU's home loss to Baylor on Saturday.
The senior sharp shooter disappeared in the second half against the Bears. And Self made sure he knew about it.
Moss stayed visible throughout this one and helped lead the Jayhawks to a key road win.
"He shot 11 (3-pointers) and I think he turned three or four down, even shooting 11," Self said. "But in order for us to be good offensively we're going to have to play small a lot more probably moving forward (especially) if Isaiah continues to be a threat like that."
The victory helped Kansas avoid its first 2-2 start in Big 12 Conference play since the 2005-06 season — Self's third at KU — and pushed the Jayhawks to 2-0 in Big 12 road games this season.
As for Dotson's status, Self told radio color commentator Greg Gurley before the game that he was unsure when KU's point guard would return.
"(It's the) same thing," Self said, noting after the game that he had no idea on a timeline for Dotson's return. "He's got a hip pointer. Very deep bruise."
Self noted that the injury is more common with football players and added that, "it's very uncomfortable and certainly can be painful. If it gets hit or if you change direction it kind of pulls on that muscle and the muscles around it pull on that bone.
"(Monday) before practice, we thought he probably would be able to (play), but it just hasn't responded quite as well to treatment as we hoped. He'll be out today and who knows how long he'll be out. But certainly we've got good players."
Kansas travels to Austin, Texas, on Saturday for a 1 p.m. clash with the Longhorns.