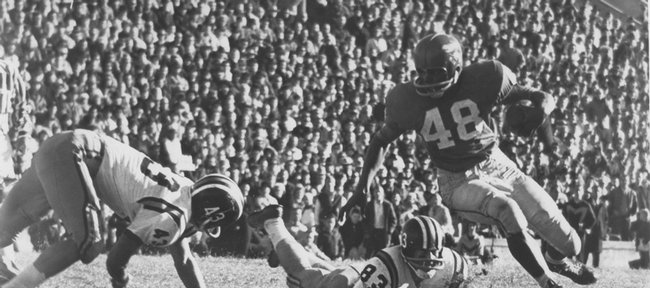 The Kansas football team hasn't participated in the postseason since 2008, but the Jayhawks got to share a small fraction of the spotlight during Monday's national championship game, when the most renowned player in the program's history picked up another honor.
Gale Sayers, a Wichita native who accounted for 4,020 all-purpose yards in just three seasons for the Jayhawks (1962-64), was named one of the top 11 college football players of all-time by ESPN. The final members of ESPN's 150 greatest list were announced during an on-field ceremony in New Orleans, at halftime of the title matchup between LSU and Clemson.
Sayers, the speedy running back known as "The Kansas Comet," came in at No. 10 on the list, and was the only Jayhawk to make the top 150.
"Until his family moved to Omaha when he was 8 years old, Sayers lived in a small town named Speed, Kansas," Sayers' entry on ESPN.com read. "He returned to the state as a Jayhawk, and made Lawrence the new Speed, Kansas. As a sophomore in 1962, Sayers immediately made his varsity presence known. He rushed for 114 yards in the season opener against TCU, and at midseason, Sayers torched Oklahoma State for a Big Eight-record 283 yards on only 22 carries. He was the first FBS player with a 99-yard rush."
Sayers led the Big Eight Conference and ranked No. 3 nationally in his debut season of 1962, with 1,125 rushing yards, and averaged a nation-leading 7.1 yards per carry.
In both his second and third seasons at KU (freshmen couldn't play at the time), Sayers was a consensus All-American. He left Lawrence with 2,675 career rushing yards and 19 rushing touchdowns.
KU eventually retired Sayers' No. 48 jersey. Sayers became the No. 4 overall pick in the 1965 NFL Draft following his time at KU, setting up a stellar career with the Chicago Bears.
Sayers was inducted to both the college football and pro football halls of fame.
ESPN's Top 11 College Football Players of All-Time
No. 1 - Jim Brown (RB, Syracuse, 1954-56)
No. 2 - Herschel Walker (RB, Georgia, 1980-82)
No. 3 - Bo Jackson (RB, Auburn, 1982-85)
No. 4 - Archie Griffin (RB, Ohio State, 1972-75)
No. 5 - Jim Thorpe (B, Carlisle, 1907-12)
No. 6 - Red Grange (RB, Illinois, 1923-25)
No. 7 - Earl Campbell (RB, Texas, 1974-77)
No. 8 - Dick Butkus (LB, Illinois, 1962-64)
No. 9 - Barry Sanders (RB, Oklahoma State, 1986-88)
No. 10 - Gale Sayers (RB, Kansas, 1962-64)
No. 11 - Roger Staubach (QB, Navy, 1962-64)
More like this story on KUsports.com