Just looking at the final box score from Saturday's 67-55 victory by No. 4 Baylor over No. 3 Kansas at Allen Fieldhouse won't tell you everything you need to know about Devon Dotson's day.
Despite playing 28 minutes in the Jayhawks' third loss of the season, Dotson was not out there for 12 minutes of the second half as the Jayhawks furiously tried to overcome a 13-point halftime deficit.
Instead, the KU point guard was back in the locker room tending to what KU coach Bill Self later revealed was a hip pointer on Dotson's left hip, forcing his teammates to try to create a comeback without him.
"That was a big part of our team that went out," sophomore guard Ochai Agbaji said of Dotson's absence. "It was hard for us. But we tried to rally behind that and keep going."
Dotson, who played all 20 minutes in Saturday's first half, started the second half but had to come out just 24 seconds later when the pain in his left hip proved to be too much to handle.
Photo Gallery
Kansas basketball v. Baylor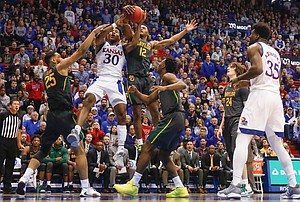 View a gallery of images from Saturday's game between the Jayhawks and Bears at Allen Fieldhouse.
"He was in obvious pain (and) didn't move very well," Self said after the loss. "He hurt it in the first half, if I'm not mistaken, but I could be wrong. But, yeah, he's got a hip pointer and so we'll see how he progresses in the next couple of days."
Dotson's hip issue on Saturday marked the second time this week that the Jayhakws were forced to play a large portion of a game without one of their starters and most important players.
On Wednesday, in a road win over Iowa State, junior guard Marcus Garrett missed eight or so minutes of the first half after rolling his left ankle against the Cyclones.
Like Dotson on Saturday, Garrett returned to action in that one and he appeared to be moving OK on Saturday against the Bears.
"It didn't feel as great as I thought it would be," Garrett said of his left ankle after Saturday's loss. "But that's not an excuse at all."
Garrett played 35 minutes against Baylor on Saturday and finished with 11 points on 4-of-9 shooting to go along with four rebounds, four assists and four turnovers. Dotson, meanwhile, tallied 9 points, three assists and two turnovers in his 28 minutes.
Kansas plays at Oklahoma on Tuesday night.
Been here, done this
Despite Saturday's loss, no one in the Kansas locker room was in any kind of panic mode about the rest of the season.
Document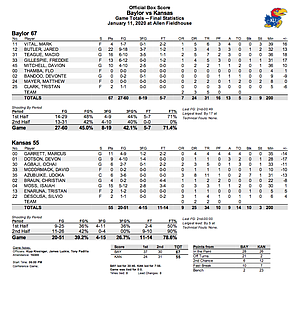 In fact, Garrett, who has played the most games of any player on the KU roster, said he immediately reminded his teammates that losing at home, though frowned upon, does not signal the end of the world nearing.
"I just told them in the locker room that the (2018) Final Four team, we lost here a couple times," Garrett explained. "We just have to come ready to play next game. We've got OU on Tuesday. That's the good thing about basketball — quick turnaround."
Garrett was a freshman on that 2017-18 squad that reached the Final Four in San Antonio. And his memory served him well. Kansas lost three times at Allen Fieldhouse that season — to Arizona State, Texas Tech and Oklahoma State — before winning seven in a row in the postseason to reach the Final Four.
What a week
Baylor's first ever win at Allen Fieldhouse on Saturday afternoon was the exclamation point on a monster week for the school's athletic programs.
On Tuesday night, Scott Drew's team picked up a big road win at Texas Tech, using defense and toughness to survive that lion's den, as well. And on Thursday, the sixth-ranked Baylor women's team went to Connecticut and knocked off No. 1 UConn, ending the Huskies' 98-game home-court winning streak.
"I think it was definitely one of the better weeks in Baylor history as far as the basketball side," BU coach Scott Drew said after the win — Baylor's first ever in Lawrence. "We've got a great administration and Mack Rhoades has done a great job with leadership. I mean volleyball being No. 1, women's basketball, football finishing where they did, but also more importantly I think we're proud to be a part of the Big 12 and represent it the right way. We want the country to know just how good the Big 12 is."
What weather?
Despite poor road conditions and blowing snow covering the region late Friday night and into Saturday morning, Allen Fieldhouse was sold out for the 298th consecutive game.
KU's public address announcer recognized the fans during a timeout midway through the second half, thanking them for "braving the elements" and making it to Saturday's game.
In addition to wishing them all a safe trip home, he also tossed in a line about them being the best fans in the world.
"The crowd was incredible considering weather and everything and the efforts by so many people just to make it where people could get to the game," Self said after the loss. "Incredible. They came for a reason. They wanted to be here. And we didn't give them much to cheer about."
This and that....
Baylor's first ever win in Lawrence trimmed KU's edge in the all-time series to 32-6, including a 16-1 mark in games played at Allen Fieldhouse... The Jayhawks are now 6-1 at Allen Fieldhouse this season and 256-14 in the venue all-time under Self... The 12-point final margin tied last season's 12-point loss to Texas Tech for the worst home loss of the Self era... KU's 55 points marked the fewest by a Kansas team in Allen Fieldhouse since scoring 53 in a win over Oklahoma on Feb. 20, 2000. It also marked the fewest by Kansas in a conference game since KU scored 55 in a road loss to TCU in 2013... KU is now 9-18 all-time under Self when scoring fewer than 60 points in a game... Udoka Azubuike's seven blocks set a career high and were the most by a KU player since Joel Embiid blocked eight against Oklahoma State in January 2014... Isaiah Moss' 15 points pushed him past the 1,000-point mark for his career. He now has 104 points on the season after scoring 906 points during his three-year Iowa career.