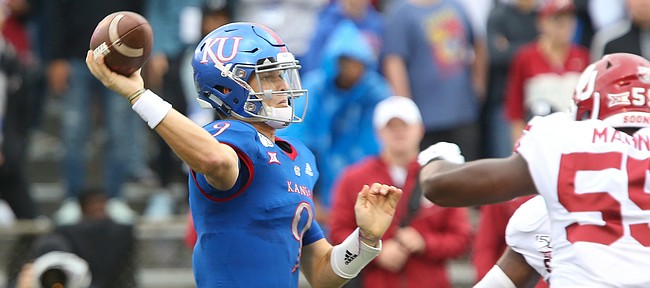 The long and difficult path to a professional football career is taking three former Kansas football players to Florida this weekend, for the SPIRAL Tropical Bowl.
Quarterback Carter Stanley and defensive linemen Codey Cole III and Darrius Moragne will be among the more than 130 prospects participating in the showcase, set to be played Sunday morning at Spec Martin Stadium, in Deland, Fla., in front of NFL scouts and executives.
All three recent KU contributors will play for the American team, coached by Todd Littlejohn.
A 6-foot-2 QB from Vero Beach, Fla., Stanley emerged in 2019 and started every game for the Jayhawks. In his 12 starts, Stanley passed for 2,644 yards, completing 60.9% of his 371 throws, with 24 touchdowns and 11 interceptions.
Listed at 6-7 and 294 pounds, Moragne started all 12 games up front for KU's defense this past year. The big defensive end from Holland, Mich., made 39 total tackles and 4.5 tackles for loss.
Cole, a 6-3, 275-pound defensive lineman who is originally from Ypsilanti, Mich., played in all 12 games for KU during his senior year, starting one. Cole, a former junior college player at Butler Community College, totaled 23 tackles and made 2.5 tackles for loss, while also forcing one fumble during the 2019 season.
The Tropical Bowl is scheduled for a 9 a.m. kickoff, and a live video stream is available through FloSports, with a subscription.
At the 2019 Tropical Bowl, two Jayhawks stood out, as offensive lineman Dwayne Wallace was named the Overall Lineman MVP, and Ryan Schadler took home the award for Overall Special Teams MVP.
These former KU players have participated in past Tropical Bowls, which is now in its fifth year of existence: defensive end Damani Mosby, cornerback Marnez Ogletree, safety Tevin Shaw, offensive lineman Jayson Rhodes, running back De'Andre Mann, tight end Mavin Saunders, linebacker Brian Lipscomb, Wallace and Schadler.