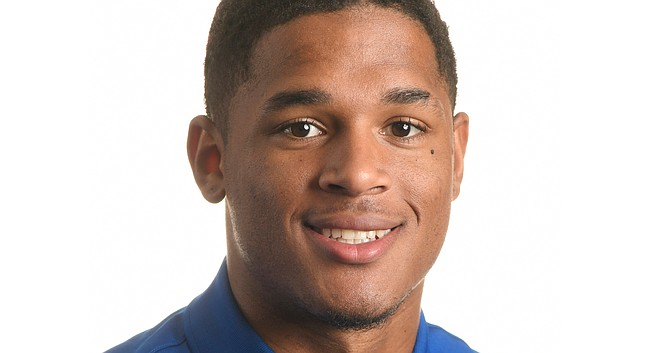 A former linebacker for the University of Kansas pleaded no contest Friday and was convicted of aggravated battery.
Kenny Evel Bastida, 20, had previously pleaded not guilty to two felonies, aggravated battery and aggravated assault, and two misdemeanors, criminal damage to property and possession of marijuana. Three latter counts were dismissed as part of the plea agreement, according to Douglas County District Court records.
The conviction stems from an incident reported to KU police on May 15 at Stouffer Place Apartments on campus.
The victim, a woman who KU police previously told the Journal-World was not a student, told police that Bastida became angry when he lost a video game, "threw her into a dresser" and then started choking her, according to the affidavit supporting Bastida's arrest. She said he then loaded a shell into a shotgun and pointed it in her face.
Bastida came to KU from Pompano Beach, Fla., and he was on the football team in fall 2018 and throughout this past spring. He had not been part of the football program since the month before the incident, according to KU Athletics officials, who didn't give a reason for his departure. He played in just four games in 2018.
His sentencing is scheduled for Feb. 18, Cheryl Wright Kunard, assistant to the Douglas County district attorney, said via email Friday.
• July 30, 2019: Former KU football player accused of choking woman, pointing shotgun pleads not guilty, will go to trial
• June 11, 2019: Woman said ex-football player lost video game, got mad before pointing shotgun in her face at KU dorm, affidavit says
• May 17, 2019: Charges allege that KU student threatened woman with shotgun in on-campus apartments
• May 15, 2019: Recent KU football player arrested after reportedly pointing gun at woman on campus