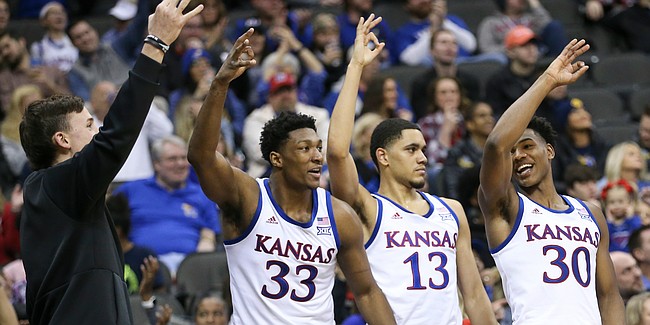 Fresh off its second win over a ranked opponent this season, the Kansas men's basketball team maintained its No. 3 spot in the Associated Press rankings and picked up a first-place vote in the process.
The Jayhawks' 60-53 win over No. 16 West Virginia on Saturday was good enough for a slight bump in this week's AP Top 25.
Still behind No. 1 Gonzaga and No. 2 Duke, the Jayhawks (11-2 overall, 1-0 Big 12) received two votes for the top spot this week up one from last week.
Gonzaga picked up 54 first-place votes, and Duke received the other nine.
Moving up two spots from last week, Baylor checked in at No. 4 in the latest AP poll and Auburn, which remains unbeaten at 13-0, moved up three spots to round out the top 5.
KU and Baylor will square off at noon Saturday at Allen Fieldhouse after the Jayhawks travel to Ames, Iowa, for a matchup with Iowa State on Wednesday and the Bears travel to Texas Tech on Tuesday night.
The Red Raiders, holding steady at No. 22, are the only other Big 12 team ranked in this week's poll.
KU is now 3-2 this season against the current Top 25, with wins over No. 25 Colorado (No. 20 at the time the Jayhawks faced the Buffaloes), No. 17 West Virginia and No. 15 Dayton and losses to No. 2 Duke and No. 16 Villanova.
The Jayhawks' appearance in this week's AP poll pushed their streak of consecutive polls to 210, just 11 away from tying the all-time mark of 221 set by UCLA from 1966-80.
The Jayhawks also have been in the top 10 in 95 of the last 109 AP polls.
Tough stretch
According to the current KenPom.com rankings, the trio of Big 12 games with which No. 3 Kansas opens its conference slate is by far the toughest stretch the Jayhawks will face the rest of the way.
West Virginia, Iowa State (Wednesday in Ames) and Baylor (Saturday at Allen Fieldhouse) are ranked 16th, 55th and 10th in the current KenPom rankings.
Things obviously can — and likely will — change, but KU does not have another three-game stretch with an average ranking that low on the rest of its schedule.
In fact, the closest any part of KU's remaining schedule comes to replicating the 81 total and No. 27 average ranking, also includes Iowa State and Baylor, but also features No. 48 Oklahoma, giving the three-game run a total of 113 and an average ranking of nearly 10 spots higher at No. 37.
Crowd pleasing
More than half of the players on the KU roster took to Twitter following Saturday's victory over West Virginia to praise the Allen Fieldhouse crowd for its efforts in helping the Jayhawks get past the Mountaineers in the Big 12 Conference opener for both teams.
Kansas coach Bill Self was right there with them.
"The crowd certainly helped us," Self noted after the victory. "If that game was on the road, we probably don't win."
Here's a quick sampling of some of the praise from the Jayhawks for their home fans:
"Unreal support tonight from the best fans in the nation," wrote sophomore point guard Devon Dotson on Twitter. "Y'all brought the energy!"
"Can't thank you enough for the support tonight," tweeted junior forward Silvio De Sousa. "You guys showed up and showed out. I love it."
"You all were the X factor tonight," wrote junior guard Marcus Garrett. "Thank you Jayhawk Nation."
Senior graduate transfer Isaiah Moss, still getting his first taste of the Allen Fieldhouse experience, said, "Energy was amazing today in AFH!! We appreciate all the support."
Wrote freshman Tristan Enaruna: "Tonight was another example of why Jayhawk Nation is the absolute best."
Even 2019-20 redshirts Mitch Lightfoot and Dajuan Harris chimed in, with Harris retweeting Garrett's post and Lightfoot tweeting, "Fieldhouse was ROCKING! Appreciate everybody that came out! Let's keep it rolling."
Good things on the horizon
With 13 games down and 18 games remaining in the regular season, Self is convinced that his team still can get a lot better.
"If I was going to grade us, I'd say we're probably right where a passing grade would be," Self said after Saturday's win over West Virginia. "We haven't done anything special to really get above that, and we certainly haven't done much to get below it."
According to both Self and the KenPom.com rankings, the area where the Jayhawks have the most room to improve is on offense.
KenPom currently ranks KU as the 15th most efficient offensive team in the country — compared to No. 2 in defensive efficiency — and the Jayhawks are fresh off a three-game run, against Power 5 opponents, during which they averaged 62.3 points per game, nearly 20 points below their season average.

Inconsistent 3-point shooting was responsible for most of that, as the Jayhawks shot 28.8% from 3-point range in recent wins over Stanford and West Virginia and a road loss at Villanova. Self's team features just two players shooting above 35% from 3-point range.
"I think that we're not anywhere close to what we can become," Self said. "But I think we've shown that we can guard."
Here's a look at this week's complete Top 25:
1 – Gonzaga, 16-1 (54)
2 – Duke, 13-1 (9)
3 – Kansas, 11-2 (2)
4 – Baylor, 11-1
5 – Auburn, 13-0
6 – Butler, 14-1
7 – San Diego State, 15-0
8 – Michigan State, 12-3
9 – Oregon, 12-3
10 – Florida State, 13-2
11 – Ohio State, 11-3
12 – Maryland, 12-2
13 – Louisville, 11-3
14 – Kentucky, 10-3
15 – Dayton, 13-2
16 – Villanova, 10-3
17 – West Virginia, 11-2
18 – Virginia, 11-2
19 – Michigan, 10-4
20 – Penn State, 12-2
21 – Memphis, 12-2
22 – Texas Tech, 10-3
23 – Wichita State, 13-1
24 – Arizona, 11-3
25 – Colorado, 12-3
Others receiving votes: Iowa 63, Seton Hall 48, Arkansas 38, Marquette 25, Xavier 18, Wisconsin 17, Houston 8, Creighton 6, Washington 6, VCU 5, Saint Mary's 3, Liberty 2, Northern Iowa 2, Purdue 1, BYU 1, Stephen F. Austin 1
More like this story on KUsports.com